Stay in the know on all smart updates of your favorite topics.
To keep Amsterdam liveable the municipality collaborates with its citizens. On average Amsterdam's population grows with 10.000 people a year. This small big city has a density of 5065 people per square km, over 180 different nationalities. 19% of the total Dutch GDP is earned in the Amsterdam Metropolitan Area. Between 2015 and 2016, the amount of tourists in Amsterdam increased by 7%. To keep Amsterdam's 162 canals, monumental centre and residential areas liveable, innovative initiatives are required. Share your innovative concepts and ideas here!
Frans-Anton Vermast, Strategy Advisor & International Smart City Ambassador at Amsterdam Smart City, posted
Rogier Havelaar, General Manager City Logistics at PostNL, posted
In June 2016, mailmen of PostNL started monitoring weed growth in Twente, an area in the Netherlands. Twente Milieu, the company responsible for keeping the City clean, asked the mailmen to take a picture of +/- 100 spots once a week. Twente Milieu uses the pictures the mailmen take for evaluating different sustainable methods for removing weed. The results of the pilot are expected in the fourth quarter of 2016.
Caroline Combé, Chief Planner at City of Amsterdam: Department of Planning and Sustainability, posted
Cities are the future. It's 2016 and Amsterdam is at the beginning of a new golden age. OBA, the library at the Ooksterdokskade, has been changed to a contemporary palace of Industry.
For more information: www.volksvlijt.amsterdam.
Esther Somers, Sr Project Manager Organic Waste (Composting & Wormhotels) at City of Amsterdam: Chief Technology Office, posted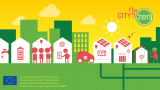 The new and final City-zen funding round for ambitious and innovative energy efficient home renovations in Amsterdam has started. Amsterdam Smart City is looking for inspiring and innovative model projects that qualify for this European grant. The main criterion is a significant improvement of the energy. Renovations of existing private homes, or VVE's are given priority, but housing corporations or investors can also register their projects.
The first renovation projects are already being realized among others by Amsterdam City Council in Amstedram West, housing associations Eigen Haard and Rochdale. The first Amsterdammers have also taken action and have renovated their homes in an energy efficient an innovative way. Like Wigger Verschoor from Amsterdam North, who is in the final stages of his home renovation. And Marjolein Cazemier, who along with nine other families, has transformed an old school building in Amsterdam Oud-West to self-sufficient energy-efficient homes.
Want to know if your project qualifies for the City-zen grant? Visit our site www.amsterdamsmartcity.nl/subsidie You can register until June 30, 2016.
Kim Gijsbers, Community manager Amsterdam Health at Slim Stadsbeheer Metropoolregio Amsterdam, posted
The BAMBEA project made the news! Soon to be found at the new Amsterdam Health Platform by the Amsterdam Economic Board. Stay tuned!
Anonymous posted
Connect through your smartphone to your city´s services and access securely with your Mobile Identity to your personal information. Look at what we did in Barcelona on our website! Anyone know of a similar project in Amsterdam ?
Mara de Pater, Master Student at Wageningen University and Research, posted
Want to help out and join the TreeWiFi project? See what you can do here (it's easier than you think)
Anonymous posted
Anonymous posted
Vivienne Gaarlandt-Bolsius, posted
Anonymous posted
Lisanne Buijze, Communications consultant , posted
"Smart City, looking for the Smart Citizen, a production by filmmaker Sara Blom and researcher Dorien Zandbergen, discusses the ambition by several networks to turn Amsterdam into a Smart City: a city in which smart technologies will make it sustainable, safe and comfortable and that will enable citizens to have more control over their surroundings. Blom and Zandbergen explore the connection between this dream and the dilemma's posed by the urban society of Amsterdam against it."
Sara Blom and Dorien Zandbergen, Smart City. In search of the Smart Citizen (2015), CC BY-ND 4.0 licensed.
Annelies Van der Stoep, Strategic advisor at Amsterdam Economic Board, posted
Ik heb inmiddels een buurtmapje op mijn telefoon: Peerby, Burgernet, Funda, AfvalWijzer, VerbeterDeBuurt en sinds kort ook NextDoor. De ene na de andere buur meldt zich aan en voorzichtig worden tips over oppassen en tandartsen gedeeld. Helaas nog geen gouden tip over de gestolen fiets van mijn zoon!
Annelies Van der Stoep, Strategic advisor at Amsterdam Economic Board, posted
With the Amsterdam based Droog Design as one of it's editors, social cities explore dreams and desires via quizzes, reflection and discussion, building a social database to help reshape cities.
Annelies Van der Stoep, Strategic advisor at Amsterdam Economic Board, posted
Je woning meer dan 2 maanden verhuren op AirBnB? Misschien niet toch zo slim. Amsterdam spoort illegale verhuurders op met Big Data!
Annelies Van der Stoep, Strategic advisor at Amsterdam Economic Board, posted
Al 475 Amsterdamse woningen worden energiezuinig verbouwd met hulp van een Europese subsidie via City-zen. Maar er is ruimte voor meer! Tot 20 maart kunnen weer aanvragen gedaan worden. Let op: de eisen zijn hoog. Na verbouwing moet de woning zeker een hoog energielabel A hebben.