Stay in the know on all smart updates of your favorite topics.
Sustainable energy is the future. The city of Amsterdam has the ambition to provide every citizen with a solar panel in the next years. How do you contribute? Share your innovative initiatives on energy here.
Robert van Hoesel, Co-founder at Crowded, posted
Very cool to see DGTL Festival bringing new innovative approaches to the masses. Great job! 👏🏼
Herman van den Bosch, Curator at Amsterdam Smart City; professor in management education , posted
Audrie van Veen, International Strategic Advisor at Amsterdam Economic Board, posted
EU Green Week is your annual opportunity to debate and discuss European environmental policy. Organised by the European Commission's Directorate-General for Environment, this key event in the environment policy calendar attracts policymakers, leading environmentalists, stakeholders and other interested parties from across Europe and the globe.
EU Green Week 2017 will take place from 29 May to 2 June with the theme of 'Green jobs for a greener future'. The deadline for registering events is 15 April.
In addition to a high level conference in Brussels, the programme will also feature a series of partner events and actions taking place across Europe. As well as being invited to take part in person, stakeholders and the general public are encouraged to become 'virtually' involved by participating in a wide range of on-line and social media activities.
Conditions:
- event takes place in May-June 2017
- focus on green jobs and skills, 'working for a greener future'
- e.g. job fairs and career days; seminars, workshops and conferences; awareness raising events for children students and adults; open doors days and guided tours; training and networking events.
Covering elements such as apprenticeships, green entrepreneurships, future trends, training, new skills development and education, green enterprises and green sectors, sustainable development, environmental protection, resource efficiency, and so on.
The Partner Events will be selected from applications that need to be submitted before the deadline, which is 15 April 2017.
Any job fairs or career days that take place during the month of July will also be promoted.
Maaike Osieck, Founder Mighty4 & Amsterdam Smart City Ambassador , posted
Michiel Zwerus, marketing , posted
Looking for support to get funds for this great idea, patents over 40 countries
including Africa, UAE, India and China
call me on 0031 -06 532 40 595
Making Smart Cities Green, from you balcony in Amsterdam towards the dry garden plots in Dubai, from wet sand and dry desert sand
results changing sand to fertile soil with us:
-education and agricultural jobs with Universities
-less water needed to grow plant and crop roots 400% faster
-more trees for transforming carbonoxide to oxygen
-more fruit and vegetables for poor people
-better compost, more energy opportunities
-opportunity for growth saltwater and sweetwater plants
-nanoclay can be used for plants outdoor and indoor at schools, roof gardens, parks and beaches
-non toxic method for faster organic growth
-legal in all areas
-patented for more than 20 years
-sustainabillity fro farmers, greenhouse and land turnkey projects
-market size more than 50 Billion $ market for agricultural support and solution to world wide access of better soil
-ROI is huge for every 1$ the return of fertile soil and crops for trade are 2$ gross profit
(1:3) sales conversion
Sladjana Mijatovic, Program Manager at City of Amsterdam, posted
Sladjana Mijatovic, Program Manager at City of Amsterdam, posted
According to the U.S. Energy Department and leaders of the solar and wind industries the rural areas that missed out on economic growth under President Barack Obama are benefiting from the expansion of clean energy. And that growth isn't driving the collapse of coal mining, according to Abigail Hopper, the recently hired chief executive officer of the Solar Energy Industries Association.
David Zuilhof, posted
Samenwerking met Amstelveense gemeente, bedrijven, duurzaamheidspartners gemeente Amstelveen, Energieloket Bleeve, van de Bron, Klimaatroute, Energiepositief en anderen
Audrie van Veen, International Strategic Advisor at Amsterdam Economic Board, posted
Elena Bou, InnoEnergy innovation director, interviews Henry Chesbrough, Professor at the University of California Berkeley and known for having coined the term Open Innovation. In this interview they talk about topics such as the benefits and challenges of collaboration between start-ups and corporations, open innovation in the energy sector.
M. Chesbrough is an advisor of InnoEnergy on open innovation related issues.
Maartje Oome, Communications Manager at Green Business Club Zuidas, posted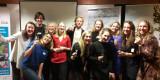 Tien young professionals van verschillende Zuidasbedrijven begonnen vorig jaar september met de Green Business Challenge. Deze Challenge is een initiatief van Green Business Club Zuidas (GBC Zuidas) en heeft als doelstelling om professionals al vroeg in hun carrière bewust te maken van duurzaamheid en wat ze hier zelf aan kunnen doen. Op maandagmiddag 20 februari presenteerden twee teams hun resultaten: zij lieten zien hoe je binnen vijf maanden door inzet en samenwerking écht een verschil kunt maken.
Circulair maken van kantoorartikelen
Team The Circle had zich ten doel gesteld om zo veel mogelijk kantoorartikelen bij verschillende bedrijven in Zuidas circulair te maken. Zij hebben het voor elkaar gekregen om de koffiebekers van AkzoNobel, die door een plastic binnenlaag niet recyclebaar waren, te laten vervangen door recyclebare papieren cups. Ook hebben ze er voor gezorgd dat bij CBRE het gebruik van wegwerp bekers is gedaald met 28% tot nu toe. En tot slot hebben ze bij Inbo en Loyens & Loeff de wegwerppennen laten vervangen door duurzame pennen die zijn gemaakt van gerecycled plastic. Om dit te bewerkstelligen, ontwikkelde het team een flowchart waarmee makkelijk geïnventariseerd kan worden welke producten bij een bedrijf verduurzaamd kunnen worden. Deze gaat GBC Zuidas gebruiken om het project door te zetten bij andere Zuidasbedrijven.
Vergistingsinstallatie in Zuidas
Het team Taste your Waste wilde een goede bestemming vinden voor (organisch) afval van Zuidas. Zij richtten zich op het plaatsen van een vergistingsinstallatie in het gebied. Hiermee hoeft organisch afval, de zogenaamde "swill", niet meer vervoerd te worden, wat energie bespaard. Het afval wordt lokaal omgezet in groene energie, water, warmte en compost.
Het team zocht de samenwerking met The Waste Transformers (TWT), die al eerder een dergelijke installatie plaatste op het Westergasterrein in Amsterdam. Taste your Waste heeft TWT in contact gebracht met de VU, die geïnteresseerd is om de vergistingsinstallatie in Zuidas te realiseren en hier mogelijk aan wil meewerken. Ook zocht en vond het team meerdere Zuidasbedrijven die hun organisch afval in de toekomst door TWT willen laten ophalen en verwerken. Gezien de omvang en de kosten van het project, is dit ook na vijf maanden nog een "work in progress", maar de belangrijkste voorbereidingen zijn getroffen en GBC Zuidas gaat zich verder sterk maken om de vergistingsinstallatie daadwerkelijk in Zuidas te krijgen.
Wat houdt de Green Business Challenge in?
De Green Business Challenge is een traject waarin young professionals de uitdaging aan gaan om zelf initiatieven te ontwikkelen die een concrete bijdrage leveren aan een duurzame Zuidas. In een klein team zetten zij een duurzaam project op poten. Leiderschap, creativiteit, zingeving en concreet resultaat, daar draait dit programma om! GBC Zuidas organiseert de Challenge jaarlijks en werkt hierin samen met Circle Economy en de trainers van Eyeopenerworks. Dit jaar deden professionals mee van de RAI Amsterdam, AkzoNobel, Loyens & Loeff, CBRE, gemeente Amsterdam, GreenOffice VU en Inbo architecten.
Sarah Nanninga, communicatieadviseur at Amsterdam University of Applied Sciences, posted
Talitha Voogd, Web Editor , posted
Nancy Zikken, Community Manager at Amsterdam Smart City, posted
Pauline Massé, Program Associate , posted
Applications are now open for Rockstart's 4th Smart Energy accelerator program in Amsterdam! Are you an entrepreneur with a startup focused on IT and energy? Apply before February 17!
Moniek Thissen, Innovation manager at Eurofiber, posted
Floor van Bovene, CFOO at Spectral, posted
Maaike Osieck, Founder Mighty4 & Amsterdam Smart City Ambassador , posted
Francesca Klack, Graduate student , posted
For my master thesis I am looking into the influence that key-decision-makers exert on the energy metabolism in Amsterdam.
Who are the key-decision-makers? They are all those stakeholders who have, or might have, a strong decisional power that has effects not only on him/herself but that affects a bigger group (e.g. a company, home owners or inhabitants in general, the municipality, a political party or a political campaign, a local project, ecc.). These decision-makers may be working in very different field (architecture, ICT, technology development, energy provider, governmental institutions, ecc) but, to be included in my research, they need to be involved in the energy system and/or take decisions that concerns energy measures or technologies, and possibly their decisional power need to be related to the city of Amsterdam.
Are you a key-decision-makers? If so, please fill in my questionnaire, it will take up to 8 minutes. Thanks!
Melchior Kanyemesha, Programmanagement + Energy Lead at Amsterdam Smart City, posted
Melchior Kanyemesha, Programmanagement + Energy Lead at Amsterdam Smart City, posted
GRATIS ZONNEPANELEN OP DAG VAN DE DUURZAAMHEID
De Amsterdamse Zoncoalitie helpt Amsterdamse groot dakbezitters de zon te vinden
Amsterdam herbergt maar liefst 1.200 voetbalvelden, oftewel 800 hectare, aan dakoppervlak dat geschikt is voor zonne-energie! Daar wordt slechts een klein gedeelte van gebruikt. De Amsterdamse Zoncoalitie heeft als doel deze daken zo snel mogelijk vol te leggen met zonnepanelen. Daarom kunnen groot dakbezitters in Amsterdam, met een dakoppervlakte van minimaal 200 m2, gratis zonnepanelen aanvragen op de Dag van de Duurzaamheid.
Gratis zonnepanelen? Kan dat dan?
Ja dat kan. De Amsterdamse Zoncoalitie is een breed en open samenwerkingsverband van 25 toonaangevende zonaanbieders, installatiebedrijven, leveranciers en energiecoöperaties en is geïnitieerd door de Gemeente Amsterdam en Amsterdam Smart City. "Zonnepanelen leveren simpelweg geld op", zegt Jupijn Haffmans van de Zoncoalitie. "En daarom zijn we als collectief in staat deze gratis aan te bieden."
Voor meer informatie over de Amsterdamse Zoncoalitie of deze campagne kunt u contact opnemen met:
Jupijn Haffmans
Amsterdamse Zoncoalitie
telefoon 06-28247798
jupijn.haffmans@zoncoalitie.nl