Stay in the know on all smart updates of your favorite topics.
Mobility and transport are crucial for a city to function properly. Amsterdam is considered the world capital of cycling; 32% of traffic movement in Amsterdam is by bike and 63% of its inhabitants use their bike on daily basis. The number of registered electrical car owners in the Netherlands increased with 53% to 28.889 in 2016. Since 2008 car sharing increased with 376%. However, this is less than 1% of the total car use. Innovative ideas and concepts can help to improve the city's accessibility, so share your ideas and concepts here.
Sladjana Mijatovic, Program Manager at City of Amsterdam, posted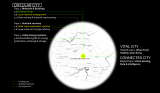 To establish healthy and regenerative resource flows that retain or increase value in cities' subsystems, there is dire need for new concepts as well as rigorous and critical testing of existing ones: both at an academic and practical level.
Introduction
To establish healthy and regenerative resource flows that retain or increase value in cities' subsystems, there is dire need for new concepts as well as rigorous and critical testing of existing ones: both at an academic and practical level. This relates to e.g. aligning & connecting flows, exploring shared value models, implementing smart sensing technologies, identifying displacement effects etc. The impact on how cities are conceived, materialized and operationalized in a circular framework can hardly be overstated. Some impacts can be imagined, based on current knowledge, but most can at best be anticipated. This is due to cities being complex, adaptive systems. This notion resonates in the AMS institute Circular City research program through the three subthemes: materials & buildings, nutrients recovery from wastewater, and urban energy systems.
Each subtheme has its own research priorities, determined by the interplay between city, society and science. Furthermore, the three themes comprise multiple interrelations and synergetic potential. Think for example of the role that wastewater can play in thermal energy supply or the circulation of building blocks for plastics and other materials. Or how local nutrient recovery systems inform building design and neighbourhood development. Other examples are e.g. 'embodied' water and material use required for the energy transition we are facing, and rebound effects that may occur when such an energy transition leads to lower energy bills.
Subtheme 1: materials & buildings
Resource depletion and waste generation are two phenomena that, due to their nonregenerative and polluting character, hinder healthy and sustainable development of urban environments. A shift from linear to circular resource management offers a potential solution, but requires new production and consumption models. Not least with regard to buildings and infrastructures. The main focus of this theme is on materials that are temporarily stored in built constructions for diverging – medium/long – periods of
time, but also short cycle materials, such as solid waste flows, are part of the scope.
Three scale levels are distinguished with regard to aligning flows & stocks: building,
neighbourhood, and region. The value cases associated with this theme revolve around: enhanced data-driven urban systems thinking that enable effective regenerative material flows, adding value to public or private organizations and society at large. Breakthrough innovations are linked to evidence based analytical and forecasting tools to determine optimal material (re-) circulation on the one hand, and matching value-bydesign with new business models on the other.
AMS projects e.g.: PUMA, Adaptive Circular Cities, REPAiR
Subtheme 2: nutrients recovery
Decentralised sanitation systems can play an important role in circular cities, with regard to resilient and cost effective wastewater treatment systems, while valorising the wastewater flow through: recovery of phosphates and other nutrients, biogas production, clean water, etc. Furthermore, those systems have the potential to reduce CO2 emissions and improve urban quality as perceived by the community. However, assessing this potential requires further study, monitoring and practical experience. Moreover, different solutions on various scale levels need to be taken into account from a circular perspective, such as the opportunities of end-of-pipe propositions. Value cases associated with this theme revolve around integrated wastewater treatment concepts for urban neighbourhoods, including its impact on local crop production and community building, and large-scale valorisation of wastewater through the production of algae.
Living lab focus areas: Buiksloterham, Floriade (Almere)
Subtheme 3: urban energy systems
Renewable energy systems are becoming increasingly important, not least in urban
environments, which offer specific opportunities, challenges, and limitations, dictated by their local urban context. The transition to renewable energy sources thus require
smarter energy infrastructures that are able to deal with increased variability in
consumption, storage and production at multiple scales and concerning multiple energy products and services. This theme focuses on innovation in energy systems engineering & integration, energy storage, and ICT, whilst adopting a citizen perspective. Value cases are based on: less dependency on fossil fuels, resilient adaptive systems, and meeting the changing needs of urban living. Traditionally, the energy system is organised in a top-down fashion, with a limited number of major players. Decentralized energy generation gives a need for reconsideration of such a hierarchical approach. Breakthroughs are sought in deep customisation of so called micro-grids, based on local supply & demand characteristics of the urban neighbourhoods and its energy users.
AMS projects e.g.: DC Smart, URSES, BIES
Main Research Infrastructure/Living Labs in Amsterdam:
Buiksloterham, Amsterdam Zuid-Oost, ArenA, Haarlemmermeer, and Floriade Almere.
For more information visite the AMS Institute website.
Mark Sloothaak, Mobility developper for the province of North-Holland at Nederlandse Spoorwegen, posted
Better and efficient use of load- and unloading zones and bus stops.
Tijs Roelofs, Smart Mobility Manager at City of Amsterdam: Chief Technology Office, posted
Improve the safety, accessibility, air quality, quality of life, and attractiveness of Amsterdam.
Anonymous posted
Michael Berden, Researcher Construction Logistics , posted
The CIVIC- project aims to find innovative solutions for construction logistics
Marc van Wingerden, Communication manager at Praktijkproef Amsterdam, posted
Foreseeing a future where cars, navigation systems, traffic lights and information signs are connected and automatically working.
Amsterdam Smart City, Connector of opportunities at Amsterdam Smart City, posted
Amsterdam Smart City, Connector of opportunities at Amsterdam Smart City, posted
ReloadIT Functional & Technical Design
Sladjana Mijatovic, Program Manager at City of Amsterdam, posted
The City Circle Scan identifies those areas where the most significant, tangible progress in realizing a circular economy can be achieved.
Emma van der Veen, New business development | Product Management at Philips, posted
Amsterdam Smart City, Connector of opportunities at Amsterdam Smart City, posted
Reduce traffic by implementing smart systems
Collaboration?
We regularly carry out new projects at the intersection between ICT and mobility. Would you like to know more about our projects or are you interested in a partnership?
More Amsterdam Smart City mobility projects:
<https://amsterdamsmartcity.com/themes/mobility/>
Mara de Pater, Master Student at Wageningen University and Research, posted
Thijs Gitmans, Fund Manager at Mainport Innovation Fund, posted
Venture Capital
MIF II was founded in 2015 by Schiphol, KLM, TU Delft, NS and Port of Amsterdam, together with NBI Investors, the manager of the fund. We help entrepreneurs accelerate by combining VC funding with the expertise and global network of our partners, who can also act as pilot partner or launching customer.
MIF II invests in innovative technology companies that are gaining traction and are looking for funding, expertise and network to speed up their growth. MIF II aims to acquire a substantial minority interest in its portfolio companies. Initial ticket sizes range from EUR 200.000 to EUR 1.000.000. MIF II is in the position to lead or participate in follow on rounds, up to total commitments of EUR 3.000.000 and over.


Colette van der Minne, Owner , posted
Strengthen and increase the innovation capacity of regional research-driven clusters in resource efficiency through cooperation, research and technological development within the waste sector.
Susanne Balm, posted
Amsterdam Smart City, Connector of opportunities at Amsterdam Smart City, posted