Kelly Adam, Program Manager , posted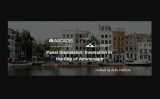 DESCRIPTION
If you're interested in urban innovation and the development of smart cities, you won't want to miss the panel discussion organized by the Arcadis City of 2030 Accelerator powered by Techstars on Wednesday, September 25th at AMS Institute. There will be a brief presentation by Techstars Managing Director David Mendez then a panel diving into challenges and opportunities around innovation in Amsterdam.
Moderated by Carolien Gehrels, European Director Big Urban Cities at Arcadis, the panel will include:
- Patrick van Hoof - Global Director Digital Innovation, Arcadis
- Ger Baron - CTO Innovation Team, City of Amsterdam
- Kenneth Heijns - Managing Director, AMS Institute
- Sarah Bork - Strategic Advisor at the Engineering Office, City of Amsterdam
- Tom van Arman - Smart City Strategist & Future City Maker
The panel will be followed by open Q&A and networking over drinks and snacks.
DETAILS
When: Wednesday, September 25th. Doors open at 5:30pm, the panel will begin at 5:45pm.
Where: AMS Institute (Kattenburgerstraat 7, Building 27W)
Register: https://city-of-2030-meet-and-greet-amsterdam.eventbrite.com
ABOUT THE PROGRAM
The Arcadis City of 2030 Accelerator, Powered by Techstars is a 3-month intensive program based in Amsterdam designed to rapidly accelerate software-based startups with disruptive ideas to improve the quality of life across the following topics: mobility, resilience, resources (energy, water, food and air), urban development and regeneration.
You can learn more here: https://www.techstars.com/arcadis-program/