Karolina Sawicka, Business Developer & Innovator at Spatial Experience, posted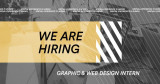 YOUR ROLE
Are you a creative and determined mind? Do you enjoy visualising experiences? We are looking for a Graphic & Web Design Intern, someone who is driven by a passion for design and the digital world.
We are an evolving business and at this stage we are looking for an intern who is passionate, dedicated and wants to grow with us. Our team is working on penetrating markets in and outside of the Netherlands and you will be involved in several aspects of this development. You will get the opportunity to work with real case studies from brands/companies and partners we already work with.
Your main tasks will focus on creative work, both design & layout (from concept to realisation), generating creative content for offline (print / editorial) and online (websites, social media & other digital platforms), both for clients and our own brands/products/solutions.
DESIRED SKILLS AND EXPERIENCE
Relevant educational background – Graphic Design / Visual Communication studies are preferred
Fluent in English both oral and written (B2 or higher)
International oriented – nomadic spirit
Able to think out of the box, ambitious and eager to take on challenges
Pragmatic and functional work approach
Graphic (Digital & Print) and Web Design skills & professional work experience
Experience with Adobe Creative Suite: InDesign, Illustrator, Photoshop and XD
Advanced knowledge & ability to create appealing presentations on Apple Keynote, Google Slides and MS PowerPoint
Extremely detail oriented
Able to generate creative content & ideas
WOULD BE A PLUS
Create & manage websites on Webflow
Creating short animations (GIFs)
Experience with Adobe AfterEffects & Premiere
Beginner / intermediate knowledge of front-end code (HTML / CSS / Javascript / jQuery)
Experience with photography or videography content creation & post-production
Fluent (or Working proficiency) in German, Spanish or Polish
WHAT WE OFFER
Our office is located close to the centre of Amsterdam in a developing and upcoming area.
You will be part of an international team of extremely motivated professionals based in Amsterdam & get the chance to meet interesting people, work within an interdisciplinary team and develop your skills while collaborating and participating in meaningful projects. We like to keep it fun and positive.
This is a full-time internship, which will last for 6 months, with the option to extend cooperation with our company. We offer an allowance of € 500 per month. Candidates could be either (currently enrolled) students or fresh graduates (eligible for Erasmus+ programme) who are legally allowed to live & work in the Netherlands.
ABOUT US
Spatial Experience is a creative innovation hub focused on shaping the future of living. Our end goal is the creation of extraordinary, unique living & working spaces where communities are formed with a fulfilling lifestyle. Our team helps brands adapt to the fast-changing urban landscape of the real estate industry through multiple branding, marketing, design and digital services. From concept ideation, creation, realisation, advisory to manage the growth of our clients at every step of the project. We are passionate about creating future-proof real estate brands.
Over the past few years, we have created and co-created successful brands, providing them with strategies, concepts, brand identity and digital / web solutions.  We have worked with brands such as The Student Hotel, Staytoo Apartments, Stayurban, Greystar & OurDomain, The Class of 2020, REDNET Property Group, BONARD among others. We work in venture with our partners on leading Coliving research lab and support other global coliving platforms e.g. Co-Liv.  Currently, we have new exciting projects to develop and we are looking for colleagues who are interested to join our team for a new professional adventure.
‍
Our team consists of entrepreneurs, strategists and creative professionals. We are passionate about bringing innovative solutions to emerging real estate (student housing, coliving, coworking among others) and have quite a few exciting developments in the works.