Lotte Duursma, posted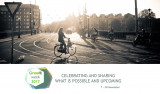 By now we think we can safely say it is becoming an annual tradition. And so, we are happy to announce that for the third year running we are again organising our Green IT Week this November. It has also become clear that the term 'week' has proven to be a rather flexible term since this year's edition is spanning from 7 – 30 November. Perhaps we should start calling it Green IT Weeks (or month), but that's something for later…
Green IT Week is dedicated to spotlight initiatives such as events, projects and good practices which help achieve sustainable targets and ambitions with ICT and technology in mind for individual organisations, government and society. Green IT is not just about making ICT itself more sustainable, but also about using these technologies to help address sustainability related societal challenges in general, such as the energy transition, mobility, smart cities and a circular economy.
Program:
- DCD Zettastructure – London (7 and 8 November)
- IT Room Infra – Den Bosch (14 November)
- ECP Jaarcongres – Den Haag (16 November)
- Design 4 Green – Worldwide 48 hour Design Challenge & Webinars (22 – 24 November)
- Amsterdam Economic Board – Circular Challenge #2 (23 November)
- EURECA at Datacenters Ireland and Datacentre World – Dublin, Paris and Franfurt (various dates)
- Green IT Amsterdam & NUON: GREEN IT LEADERS LIVE – Amsterdam (24 November)
- GreenIT + Amsterdam Smart City (30 November)
Green IT and Amsterdam Smart City join forces in the final event of the Green IT week:
On the 30th of November, we will host Smart Data, Smart City #6 on Smart Infrastructure.
Sign up here:
https://amsterdamsmartcity.com/events/smart-data-smart-city-6-smart-energy-infrastruc