Cornelia Dinca, International Liaison at Amsterdam Smart City, posted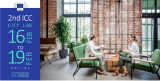 The ICC builds on the success of the Digital Cities Challenge (DCC), which helped 41 EU cities develop a strategic vision and a roadmap for digital transformation. Similar to its predecessor, the ICC cities will receive guidance and expert support though a city peer network that will share best practices regarding the uptake of advanced technologies.
The Amsterdam Region, represented by Amsterdam Economic Board and Amsterdam Smart City (ASC) is proud to join the ICC as mentor alongside European mentors Aarhus, Antwerp, Barcelona, Espoo, Hamburg, Nice, Porto, Rijeka and international mentors Medellin, Singapore and Toronto. The Amsterdam region will share its experience and learn from other best practices related to multi-stakeholder collaboration, innovation ecosystems, circular economy and citizen participation.
The second ICC Lab will take place February 16-19. The first day of the program is open to the public and registration is possible via: <https://www.intelligentcitieschallenge.eu/events/1st-icc-city-lab>
Agenda:
13:00 – 13:10 Opening speech
John Higgins, Moderator
Ulla Engelmann, European Commission, Head of Unit for social economy
Nikos Maroulis, Programme Coordinator
13:10 – 14:30 Panel discussion on 'City strategies for the recovery'
John Higgins, Moderator
Alice Charles, Project Lead, Cities, Infrastructure & Urban Services Platform, World Economic Forum
Dana Eleftheriadou, European Commission, Head of Advanced Technologies Team
Filipe Araújo, Vice Mayor, city of Porto
Goele Haest, Director of Business and City Marketing, city of Antwerp
Harri Paananen, Head of Economic Development, City of Espoo
Sébastien Viano, Director of the European Affairs and External Funding, Metropole Nice Côte d'Azur
14:30 – 15:30 ICC City needs and strategies: reflections and showcases from the community
John Higgins, Moderator
Paresa Markianidou & Morten Rasmussen, Programme Coordinators
Cristina Mora, Councillor of sustainable development and European programmes, city of Cartagena
15:30 End of public program