Elien van Riet, Data Analyst/ Growth Engineer at Urban Tribes, posted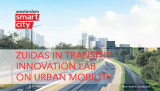 Registration is not possible anymore!
How do we make Zuidas accessible and vibrant for and with her citizens and users? Amsterdam Smart City, Impact Hub, TransportLab and Urban Connectors will bring stakeholders of Zuidas together on Friday March 31. Municipality of Amsterdam, startups and entrepreneurs of Impact Hub will adress the challenge of Zuidas in this Innovation Lab on Urban Mobility. From 4.30PM the lab will be open for public to test the sollutions.
As the lab will be hold in Dutch, here follows more information: Het doel van dit lab is om gezamenlijk sociale oplossingen te ontwerpen voor een bereikbare en bruisende Zuidas. Daarbij richten we ons op de sociale en menselijke kant van dit mobiliteitsvraagstuk.
Deelvragen die aan bod zullen komen zijn:
- Hoe maken we Zuidas bereikbaar en bruisend?
- Welke menselijke ervaring willen we creëren voor mensen die zich in, uit en door Zuidas bewegen?
- Welke sociale interventies kunnen de bereikbaarheid en beleving van Zuidas verbeteren?
Uitdaging
Zuidas ligt op een strategische plek tussen Schiphol en de Amsterdamse binnenstad. Door de concentratie van bedrijven, instellingen en woningbouw is er veel dynamiek. En Zuidas is nog niet af, integendeel.
De bereikbaarheid over de weg en met openbaar vervoer is zowel de kracht van Zuidas als ook de grootste uitdaging de komende jaren.
Onderdeel van het lab is zorgdragen voor de follow-up van de oplossingen die ontwikkeld worden, bijvoorbeeld een online challenge van TransportLab.
Dit Innovation Lab is een werkwijze om overheden, bedrijven, organisaties, kennisinstellingen en bewoners samen te brengen in een aanpak van een stedelijk vraagstuk. Het is onderdeel van Impact Hub's Unlikely Allies: The Future of Our Cities.