Highlight
from Amsterdam Smart City, Connector of opportunities at Amsterdam Smart City, posted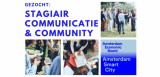 Kun jij goed schrijven? Ben je een enthousiaste student die het leuk vindt om mensen te benaderen en teksten te schrijven? Heb je interesse in de regio Amsterdam, innovatie, technologie of duurzaamheid? En zoek je een stage op het gebied van communicatie en communities? Dan zoeken we jou!
Amsterdam Smart City is het innovatieplatform dat proactieve bewoners, innovatieve bedrijven, kennisinstellingen en overheden samenbrengt en vorm geeft aan de stad van de toekomst. Samen komen we tot innovatieve oplossingen en maken we betere straten, buurten en steden. Zo zorgen we ervoor dat de Amsterdam Metropoolregio leefbaar blijft voor iedereen.
Amsterdam Smart City richt zich op vier thema's: mobiliteit, de digitale stad, energie en circulaire economie. We werken samen met 20 partners en een internationale community van meer dan 8000 leden. Amsterdam Smart City is een netwerkorganisatie die valt of staat met contact met het netwerk. We brengen mensen op verschillende manieren bij elkaar, o.a. via het platform amsterdamsmartcity.com. Communicatie is één van onze kernactiviteiten, waarbij we jouw hulp nodig hebben!
Wie ben jij?
Jij bent een student in de richting communicatie / media / marketing / journalistiek. Je hebt affiniteit met de thema's duurzaamheid, technologie en innovatie. Je bent enthousiast en wil graag leren. Je bent initiatiefrijk en je kunt zelfstandig werken. Daarnaast kun je makkelijk schakelen en ben je flexibel. Je kunt je communicatief schriftelijk en mondeling sterk uitdrukken. Je kunt overweg met online platforms, vindt het leuk om te schrijven, samen aan de slag te gaan en je netwerk te vergroten. Je vind het leuk om een community te ondersteunen en te stimuleren tot meer interactie. Een goede beheersing van de Nederlandse en Engelse taal is een must. Ervaring met Photoshop, Indesign en videobewerking is fijn, maar geen must.
Wat ga je doen tijdens je stage?
• Je bedenkt samen met het team welke (interactieve) content interessant is voor het netwerk. Je vindt haakjes met de actualiteit, komt met creatieve ideeën. Daarnaast ga je op zoek naar relevante content uit de community.
• Je beheert en bewerkt de content geplaatst door de community.
• Je schrijft of, als je het leuk vindt, maakt video's en plaatst deze op de website.
• Je activeert de Amsterdam Smart City community door contact met de leden te onderhouden.
• Je beheert social media kanalen Twitter en Linkedin en zet deze actief in om onze content verder onder de aandacht te brengen.
Wat bieden wij?
• Een uitdagende meewerkstage op het gebied van communities en communicatie voor minimaal 4 dagen per week.
• We bieden je een fijne werkplek op het Marineterrein in Amsterdam, met een informele en collegiale sfeer en voldoende ruimte. Uiteraard kun je ook vanuit huis werken.
• Jouw eigen inbreng en enthousiasme zijn erg welkom.
• Wij bieden de stageplaats aan tegen een nette vergoeding volgens de richtlijnen van de Amsterdam Economic Board.
• Het is mogelijk om vanaf september te beginnen.
Geïnteresseerd?
Vind je dit allemaal goed klinken? En past de stageplek goed bij je? Stuur dan je CV en een korte motivatie naar info@amsterdamsmartcity.com. Voor meer informatie over de functie kun je een mailtje sturen naar Francien via francien@amsterdamsmartcity.com. Hopelijk spreken we elkaar snel!