Amsterdam Smart City, Connector of opportunities at Amsterdam Smart City, posted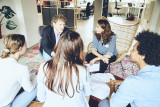 Wil jij je inzetten voor betere straten, buurten en steden? Ben jij thuis in de wereld van communicatie, social media en community management? En heb je affiniteit met stedelijke innovatie?
Kom dan het Amsterdam Smart City team versterken! Voor ons kernteam (bestaande uit 6 mensen) zijn wij op zoek naar een:
(junior) Communicatie- en programmamedewerker
Amsterdam Smart City is een onafhankelijk innovatieplatform dat innovatieve bedrijven, kennisinstellingen, overheden en proactieve bewoners samenbrengt en vorm geeft aan de stad van de toekomst.
Wij zijn ervan overtuigd dat de veranderingen die nodig zijn voor de vooruitgang van de stad en regio alleen gerealiseerd kunnen worden door samen te werken. Al onze activiteiten zijn daarom gericht op het faciliteren van ontmoeting, interactie en samenwerking, zodat partijen samen tastbare, duurzame innovaties tot stand kunnen brengen. Amsterdam Smart City richt zich met name op deze vier thema's: mobiliteit, de digitale stad, energie en circulaire economie. Met het Amsterdam Smart City team zorgen we voor verbinding.
Wat ga je doen?
Je voert de communicatie- en communitystrategie actief uit door het maken van content, het schrijven van nieuwsbrieven, beheren van onze social media kanalen en het organiseren van events. Je bent veel in contact met de partners en andere organisaties binnen het netwerk van ASC.
Daarnaast werk je met onze partners aan het aanjagen van innovaties binnen het transitiepad Mobiliteit & Logistiek en legt verbindingen met de community. Ook breid je het netwerk uit met relevante organisaties en innovatieve projecten. De communicatie- en programmamedewerker werkt nauw samen met het gehele smart city team en legt verantwoording af aan de communicatiemanager. Daarnaast heb je een aantal programma ondersteunende taken.
Taken
• Je beheert onze social media kanalen, geeft inzage in de statistieken en onderneemt actie op basis van de data.
• Je onderhoudt het dagelijks contact met de leden van onze community op www.amsterdamsmartcity.com
• Je verzamelt, schrijft, redigeert en publiceert content voor de community en andere stakeholders.
• Je organiseert en draagt bij aan evenementen voor partners en ons bredere netwerk in de regio en communiceert hierover.
• Je coördineert, onder begeleiding, je eigen transitiepad: Mobiliteit & Logistiek en monitort voortgang van projecten en legt verbindingen.
• Je verbindt, mobiliseert en activeert partners en communityleden
• Je voert ondersteunende programma taken uit, zoals het vormgeven van presentaties en zorgdragen voor documentatie en het bijhouden van het CRM systeem.
Profiel:
• WO/HBO werk- en denkniveau
• Opleiding op gebied van communicatie of vergelijkbaar
• 1-2 jaar werkervaring
• Goede beheersing van Nederlands en Engels in woord en schrift
• Ervaring op het gebied van online communicatie, community management en/of projectondersteuning
• Affiniteit met innovatie en stedelijke ontwikkelingen, met het thema Mobiliteit & Logistiek in het bijzonder
• Type aanpakker, zelfstandig, communicatief sterk en flexibel.
• Gedreven in het creëren van maatschappelijke waarde
Wat bieden wij?
Wij bieden je een fijne werkplek op het Marineterrein in Amsterdam, met een informele en collegiale sfeer. Op dit moment werken we uiteraard veel thuis. We zijn een klein team (6 personen) waarin we nauw met elkaar samenwerken. We werken intensief samen met een grote groep gedreven mensen die zich inzetten voor een duurzame stad en regio, voor iedereen. Het is een regionale, nationale én internationale werkomgeving waarin je eigen inbreng en pro-activiteit zeer gewaardeerd worden.
We zoeken iemand voor 32-40 uur per week.  Salarisindicatie o.b.v. 40 uur: €2.900 - €3.400 bruto excl vakantiegeld en eindejaarsuitkering. Wij bieden een jaarcontract met uitzicht op een vaste aanstelling.
Interesse gewekt?
Vind je dit goed klinken? Dan horen we graag van je! Stuur je CV en een korte motivatie voor 17 april naar: info@amsterdamsmartcity.com. De eerste gesprekken zijn op 20 en 21 april. Voor meer informatie over de functie kun bellen met Menouschka Plugge via 06-43752636.
Hopelijk spreken we elkaar snel!