A mutually beneficial Smart City Exchange between you and Amsterdam's innovation ecosystem. Online meeting is possible.
The Smart City Exchange supports cities and organizations with their urban innovation ambitions. During these sessions Amsterdam Smart City (ASC) shares best practices and lessons learned from Amsterdam's innovation ecosystem on one of four themes: energy, mobility, circular economy or responsible digitalization, or another topic of interest to you. In exchange we would like to hear from your city or organization's experience and best practices on the same topic.
In this way we create mutually beneficial Smart City Exchange!
To enquire about the Smart City Exchange or any of the other of our programs, email <cornelia@amsterdamsmartcity.com> with a brief summary of the key challenges you are working, what projects and best practices you would like to share with ASC partners and community, and what you hope to get out of the Smart City Exchange.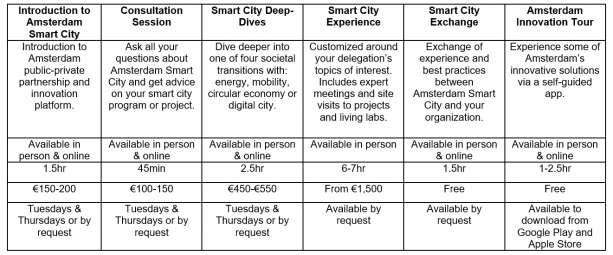 Please note:
The Smart City Exchange is offered in-person in Amsterdam or online via the Zoom platform. In-person programs are currently limited to 5 people.
Due to high demand and limited resources we are not able to accommodate all requests. Initiating a request at least 3 weeks in advance will increase the chances of a mutually beneficial Smart City Exchange.