Scyfer B.V.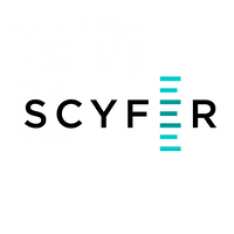 We solve your challenging and complex data analysis problems. You hire us, we help you with the most advanced machine learning solutions and the best analytics team. It's that simple.
What does the best mean?
Accuracy. We have a knack for optimizing algorithms to get the best possible performance. You will certainly reap the benefits from more accurate classifications and predictions.
Cutting-edge. We make use of the most recent developments in machine learning, straight out of the academic literature. We understand these algorithms thoroughly, and implement them fast. In the rapidly evolving data analysis world, the cutting-edge technologies birth new possibilities and result in far better models.
Big Data. A common employee remark: This project is cool, we have a lot of data! It is a common machine learning trope that more data leads to better predictions. We have the technology to crunch terabytes of data, squeezing all potential value out of it.
Customized. Our solutions are custom, specifically tailored to your needs. Your problem is unique, so it deserves a unique solution. Custom solutions perform better in practice for challenging machine learning problems.
Some of our clients include: TATA Steel, Albert Heijn, ABN Amro, KPN and Leiden University Medical Centrum.
Scyfer B.V. is a spin-off from the University of Amsterdam. The company was founded by Max Welling, renown researcher in the field of machine learning and artificial intelligence along with PhD Taco Cohen. Scyfer aims to bring out the best of both the academic and business world in machine learning state-of-the-art technology.
Sorry! There's no updates to show here right now.