Freek Bomhof, consultant data science at TNO, posted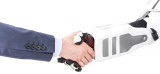 The "Big Data meets Applied AI" gives an overview of the state of the art in applications of Big Data and AI. Contributions from academy, industry (corporate and SME) and government address the most recent developments of "what's cooking". The Big Data track consists of fast paced pitches (3 minutes each) that will give the audience a good and quick overview.
PROGRAM
>> Keynote presentations:
Keynote by Prof. N. Helberger Natali Helberger, Professor of Information Law from the University of Amsterdam, is a member of the Steering Board of the VWData program. She will discuss responsible value creation with data, and how Fair, Accurate, Confidential and Transparent (FACT) data science supports that.
More keynotes to be announced soon.
>> Break-out sessions in application areas:
- Defence and National Security,
- Personalized Health,
- Mobility and Data Driven Logistics,
- ICT and Cyber and
- Small Big Data Congress with pitches with pitches providing an overview of practical and innovative applications based on big data.
The pitches will be selected on the themes FACT (Fairness, Accuracy, Confidentiality and Transparency), and FAIR (Findability, Accessibility, Interoperability and Reusability).
The call for pitches is now open: contact Mike Wilmer via mike.wilmer@tno.nl to present your Big Data research, dilemma, solution, application or model at the Small Big Data Congress!
>> Network event with several Applied AI and Big Data demonstrations and poster presentations