TRENS Solar Trains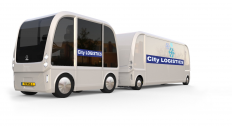 Our unique sustainable road trains can be applied as people mover and as city distribution vehicle.
People mover
The 100% electric Trens Solar Train carries 60 passengers comfortably while driving on existing streets, regardless of the street surfaces. No road is too narrow, not a curve is too sharp and no slope is too steep. The Trens Solar Train provides comfortable passenger transport in historic city centers, on boulevards, or on routes to park-and-ride (P+R) facilities on the outskirts of inner cities, on the premises of nature and event parks and Business Centers. Passengers and pedestrians are instantly aware of the environmental-friendly character of the Trens Solar Train: No noise, no air pollution.
City distribution vehicle
In addition the Trens Solar Train is ideally suited for city distribution: Large loads can be transported within a compact urban environment. From now on catering organizations and shops in inner cities, and even consumers in residential areas, are served by means of our electric vehicles (with no noise). The Solar Train actively contributes to a clean environment and is characterized by remarkably low operating costs. 100% Ecological = 100% Economic
Sorry! There's no updates to show here right now.