Raluca Venescu, posted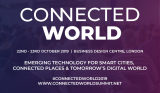 In today's hyper-connected society, new technologies are disrupting every aspect of our lives, our work, and our environment.
Now in its 5th year, Connected World 2019 will deep dive into the future of smart technologies, showcasing the digital transformation strategies of our cities, the opportunities for connected living in our homes, new era of connectivity and revolutionary techniques on the horizon, driving efficiencies and sustainability across every aspect of our lives.
Discover the future of smart cities, connected places & tomorrow's digital world at Connected World Summit 2019 taking place at The Business Design Centre in London on 22nd/23rd October.
2 days of event will see 1000+ attendees, 150+ speakers, 20+ exhibitors.
The conference programme focuses on 6 main themes: Smart Cities, Smart Homes, Utilities and Environment, Smart Mobility, Connectivity and the Economy and provides an essential platform for learning as well as discussing the opportunities of connected technology with industry experts and leaders in technology.
20% discount via this code: 20P