Arne giske, posted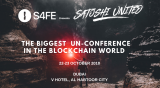 We are an Un-Conference with a vision to create maximum networking with all the delegates and attendees present during our 2 day festival celebrating Blockchain and its innovation.
Our small Unique Gatherings around our 2 day festival of blockchain creates an environment where the attendees get a chance to meet and Network with the right influential people of the industry in a grand yet casual a casual ambience.
For this Un-conference in Dubai we have planned :
1. One day of keynotes, panel discussions and exhibition booths in our own unique way.
2. "Lets Drunch" networking session in a beach club
3. An Investors rooftop Soiree exclusive for investors and Sponsors
4. VIP yacht party for top delegates and Sponsors on invite basis only
5. An after-party to close the event in good notes with all the connections made during the event.
An opportunity to network with the top Crypto officials and delegates who will be working together on more collaborative and visionary ideas to further enhance the Blockchain Industry.
Also organising a Pitcher perfect competition which lets you pitch your ICO on stage and gives you an opportunity to win upto $100K in investments and prizes.