Angèle Rolland, Coordinator of the Mobility Sphere think tank , posted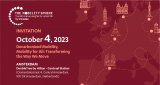 The Mobility Sphere Forum is scheduled to take place in Amsterdam on October 4th, 2023 - a gathering of high-level experts across the public and private sectors aimed at rethinking mobility to disrupt the status quo, foster new perspectives, and craft innovative solutions.
Created in 2023, The Mobility Sphere by Transdev is a European think tank aimed at envisioning and providing a comprehensive outlook on the future of mobility. Our approach to mobility is firmly rooted in the concept of transition — whether environmental, social, economic, or territorial. We champion mobility as the cornerstone of inclusive, sustainable, and resilient cities and society.
Centered around the theme 'Decarbonized mobility, mobility for all: transforming the way we move', the upcoming Forum will gather approximately 100 mobility stakeholders from various European countries (France, Spain, Portugal, United Kingdom, Sweden, etc.) for a half-day in the heart of Amsterdam. The discussion will be moderated in English by François Gemenne, Scientific Advisor of The Mobility Sphere.
Panel 1 - Desirable and decarbonized mobility: How to anticipate and adapt to uses?
Karima Delli, Member of the European Parliament, Chair of the Committee on Transport and Tourism (EU)
Katarína Cséfalvayová, Director of the Institute for Central Europe & Executive Lead of the Danube Tech Valley Initiative, Former Member of Parliament (Slovakia)
Zeina Nazer, Co-Founder of Cities Forum (United Kingdom)
Panel 2 - Desirable mobility for all: How to foster an inclusive shift towards decarbonization?
Charlotte Halpern, Researcher at Sciences Po's Centre for European Studies and Comparative Politics (France)
Madeleine Masse, Architect Urban Planner, Founding President of Atelier SOIL (France)
Brian Caulfield, Professor in Transportation & Head of Department at Trinity College Dublin, Expert to the Irish National Transport Authority (Ireland)
Three keynotes:
Antoine Grange, CEO Europe of Transdev, Chairman of The Mobility Sphere
Elke Van den Brandt, Minister of the Government of the Brussels-Capital Region, responsible for Mobility, Public Works and Road Safety (Belgium)
Samah Karaki, Neuroscientist – Transitioning towards Sustainable Mobility: Cognitive Biases and the Impact of Social Environment.
To find out more about the forum and the programme, follow this link.
Places at the forum are limited, you can register by sending an e-mail before 25 September 2023 to themobilitysphere@transdev.com.