Jeske Eekelaar, posted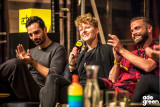 On October 17th, the pioneering conference on sustainability, innovation and social change in the music industry is back. We're happy to organise the 6th edition of ADE Green at De LaMar Theater in Amsterdam.
The program features international keynote speakers, food for thought in combination with practical hands-on workshops and various panels on different topics. Connect with the ADE Green community, which include likeminded people from the whole electronic music industry, brands, influencers and artists for networking, fast internet and a well-stocked bar.
Among the keynote speakers at ADE Green's previous editions have been the founder of Woodstock Michael Lang, Director of Greenpeace Kumi Naidoo, 'Advocate of the Earth' Polly Higgins, ID&T founder Duncan Stutterheim, and artists like Seth Troxler, Tommie Sunshine, Nicky Romero, Pussy Riot's Nadja Tolokonnikova, Dave Clarke and Matt Black.
Are you joining us for an inspirational day to get inspired, taking your skills to the next step or widen your network?