WIT Regatta, Global Events Organizer , posted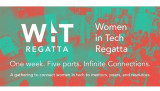 JOIN US October 29 - November 2, 2018 FOR THE INAUGURAL WOMEN IN TECH REGATTA WEEK
The Regatta is a curated collection of events, workshops and conversations designed to connect women in tech to mentors, peers, resources and to the power of community. We will dwell in the realm of what's possible, rather than simply what is.
The WiT Regatta is an inclusive event. Regardless of your area(s) of expertise, all genders and career levels are welcome and encouraged to participate.
Amsterdam is a mecca for talent, tech and dynamic non-profit organizations dedicated to making the industry more inclusive and diverse. WIT Regatta is about helping you to tap into this dynamic, talented community.
Get to work during our signature co-storming sessions, workshops, non-profit resource fair and cocktail mixers. Join captivating conversations with CEO's, female founders and engineers.
Our week is brimming with opportunities to build your tribe and buoy your spirit, no oars required. We'll come together to amplify careers, actualize goals, define the future of tech and blow our own minds.
Amsterdam is now joining this international event series with Seattle and Vancouver!
Our 2018 agenda includes:
To see full detailed schedule: http://womenintechregatta.com/amsterdam/event-info/itinerary/
Monday Kick off opening party– Resource reception featuring over 15 orgs from our vibrant city that support women and girls in tech- all during one night, under one roof. Connect with industry leaders who can help you find new opportunities, provide you with valuable networking and powerful insights to push your career to the next level.
Port Tracks: During the week we're hosting over 30 breakout sessions across the city. Sessions are grouped thematically and each session will be hosted at 1 of 5 ports, as well as Circl; the MotherSHIP for the WiT Regatta. Attend all or create a personalized itinerary aligned to your specific interests.
MotherSHIP: All About You We'll be discussing self-care in toxic tech, careers and parenthood, embracing your inner power and making your flaws work for you, as well as a chance to participate in our signature Co-Storm interactive.
Port 1: Tech Mavens (Keeping you relevant in tech) We'll be talking about everything from AI, to Crypto-Currency, to growing as a coder.
Port 2: Inclusive Culture (Allyship) The focus here is on ending gender bias in the workplace & building stronger, more diverse teams.
Port 3: Leadership We'll hear from a diverse group of CEO's and leaders who will discuss multi-dimensional leadership, building credibility and avoiding isolation.
Port 4: Startups Here we'll talk about side hustles, perfecting your pitch, and more with startup junkies and successful entrepreneurs.
Port 5: Career Acumen (Building relationships) Learn about how storytelling, mentorship, and meaningful connections will help you meet your career goals and win the race.
Closing Celebration: Enjoy the last day of the WiT Regatta Week at the Progressive Closing Celebrations. Participate in a variety of exciting pop in events: headshots, fashion exhibits, interactive VR, candlelight meditation, résumé review, workplace hacks and more... Connect, nibble & sip with new and old friends.
"We at The WiT Regatta passionately believe in the power of community and strive to build new connections in our ever-growing ecosystem. We will provide a powerful week brimming with opportunities to build your tribe and buoy your spirit, no oars required. Our goal is for everyone to be seen, heard and to walk away from this week with new ideas and relationships. "
-Melody Biringer, Connection Engineer | WiT Regatta Founder and Producer
To see full detailed schedule: http://womenintechregatta.com/amsterdam/event-info/itinerary/
Full details at our website here: http://www.womenintechreagatta.com