Stijn Vernaillen, posted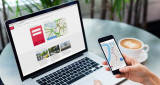 We're very proud of our launch of the "Smart Ways to Antwerp" Multimodal routeplanner app. Go check it out!
At the end of last year, the Smart Way to Antwerp launched a multimodal route planner on this website. This handy route planner is now also available as an app for your smartphone. You can now find a route much easier, by saving favourite routes and locations, but the app also can also make personal travel suggestions and send you notifications.
Multimodal route planner
The route planner combines routes on foot, with your own (folding) bike, Velo, tram, bus, train and car. So the proposed route may require you to drive your car or ride your bike to the train station, get off at Antwerp's Central Station and cover the last part of your journey on foot or with a Velo shared bike. Car routes are diverted to P+Rs and public car parks in the city. Sometimes you can get to your destination more easily by combining transport options.
App
You can also save favourite locations and routes in the app, ensuring you can select your most frequently used route more easily. Users can also choose to receive notifications through the app in case of roadworks with a major impact on traffic or when new mobility solutions are launched. A new bike or car sharing system, for example, is news that can be relevant to all the users.
A smart map shows you where interesting locations like P+Rs, tram stops, car sharing hubs, LEZ day pass vending machines and others are located. You can also use the smart map to calculate a route to your chosen location.
Download the app here: https://www.slimnaarantwerpen.be/en/news/the-smart-way-to-antwerp-launches-a-multimodal-app