Aditya Putta, Venture Sourcing Lead , posted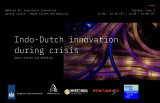 Webinar #3: Indo-Dutch innovation during crisis - Smart Cities and Mobility
Click here to register: https://forms.gle/gM94BTsxTu9vfZaR6
The full impact of COVID-19 on Smart Cities and Mobility is still unknown. However, one thing is for certain— there are global economic and financial ramifications. This is affecting how our buildings, transport and utilities are managed. It is felt through the global supply chains, from raw materials to finished products.
During this webinar, we will delve into the immediate impact of the isolation measures on these industries, explore the degree to which there are long term consequences and how we can adapt our systems and capabilities. We will also focus on the progress and positives coming out of these thematic areas through experts. And we'll hear entrepreneurs who are coming up with innovative solutions to deal with the outbreak and cope with the repercussions that are bound to come our way. The audience will have a chance to interact with the speakers. By doing so, we learn from each other and provide an opportunity to form strategic Indo-Dutch ties!
We welcome you to become part of this bottom-up collective backing startup entrepreneurs to play their role as game changers.
Program for Tuesday 9 June
11:00 – 12:30 Central European Time and 14:30 – 16:00 Indian Standard time
Welcome addresses
Freek Jan Frerichs, Senior Policy Advisor Life Science & Health at The Ministry of Economic Affairs, The Netherlands
Country level response and industry expert opinion
Shashank Ojha, Senior Digital Development Specialist at The World Bank
Cornelia Dinca, Incoming Delegations and Living Labs Lead at Amsterdam Smart City, The Netherlands
Sander van Lingen, Business Development Manager for Smart Cites at Dell Technologies
Entrepreneurs presentation and Q&A
Simranjit Singh Grewal, CEO & Founder at Y the Wait, The Netherlands
Ayon Hazra, Co-Founder & CEO at Qlikchain, India/The Netherlands
Sanjoy Roy, CEO at AskSid AI, India
Pranav Vempati, Chief Executive Officer at Kal Bionics, India
Peter van der Veen, Tripservice, The Netherlands
Moderator
Aditya Putta, Venture Sourcing Lead, WorldStartup
Target audience
We especially welcome innovation managers within government and corporates, along with investors who can support the entrepreneurs with pilots, projects, investment and partnerships.
Since this is also a time to share, we welcome other entrepreneurs who seek inspiration and would like to join forces through collaborations. All Indian and Dutch stakeholders that are involved and interested in Smart Cities & Mobility, and startup innovation in general are also invited.
Click here to register for the Webinar #3: https://forms.gle/gM94BTsxTu9vfZaR6
(Look out for an email from Crowdcast, the webinar tool. We will invite you.)
For any questions or comments, please contact Aditya Putta (aditya@worldstartup.co).
Made possible by
The Netherlands Embassy in India
Consulate General of The Netherlands in Bangalore
WorldStartup
Dell Technologies
Amsterdam SmartCity
The World Bank