Floortje Vermeer, posted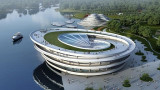 'How bicycle architecture improves our urban environment'
The world's first Bicycle Architecture Biennale celebrates a new wave of architecture corresponding with the revival of bicycle transport. During the biennale we will exhibit cutting edge and high profile building designs. On the 22nd of November we also want to give the opportunity to some of the architects to present their designs and talk with the audience about their vision on the role of the bicycle in cities and in architecture.
With: NEXT Architects, KuiperCompagnons, StudioSK and the new Bike Mayor of Amsterdam Katelijne Boerma.
Moderator: Susanne Heering
NEXT Architects: Dafne Schippers bridge
This design integrates a bicycle and pedestrian bridge with a school and a park into one cohesive whole. The bridge, which crosses the Amsterdam-Rhine Canal in Utrecht, is the main link in the express cycling route that connects the historical city centre with the new neighbourhood of Leidsche Rijn. Cyclists travelling from the city centre to Leidsche Rijn will cycle to a height of nine metres as they veer around Victor Hugo park in a wide bend, taking them across the roof of the school and over the canal. The Dafne Schippers bridge was nominated for the Roof of the Year Awards 2016.
StudioSK: bicycle parking facility Mahlerplein
For this project studioSK and BAM worked together to design and build a bike parking facility at Mahlerplein (next to CycleSpace and Circl) for three thousand bicycles. This parking facility has the size of a small football field and with the spacious entrance hall; it looks like a 'ballroom'. Because of the daylight entering the facility trough the entrance and a serie of colorful windows, the space is very light and that creates a very special atmosphere.
KuiperCompagnons: Bike Apple
The Bike Apple can host 970 bicycles in a structure of 15.5 meters high with a diameter of 27.5 meters. The object appears to have a simple design, but, on closer inspection, no single detail of this three-dimensional structure appears the same.
Entrance: Free
Sign up for this event on the website of Circl or send an email to folkert@cyclespace.org