Marc de Winter, Director , posted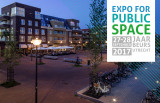 The Expo for Public Space is the most comprehensive exhibition in Europe that focuses exclusively on all aspects of public space. Based in The Netherlands, a country that is known as a worldwide technological innovator, this exhibition provides the ideal setting to quickly meet an abundance of relevant, international professionals. More than 600 leading suppliers from the following fields have a stand on the exhibition floor:
• Play
• Lighting
• Green
• Street furniture
• Pavement
• Landscape architecture & Design
• Subsurface
• Advice & Management
By gathering the various disciplines that will shape the cities of the future, this event allows professionals to directly build new partnerships and share knowledge with the people who matter. If you can't find it here, you won't find it anywhere.
Shared interest
The exhibition presents meaningful opportunities to anyone working in the field of public space. This includes municipal policy makers, heads of service, area directors, project managers, designers, landscape architects, urban developers, advisors and other interested professionals. Take advantage of each other's knowledge and experience, meet one another and bring each other up to speed over free beverages.
Smart Cities
Besides the hundreds of exhibiting organisations that are presenting the newest innovations, there will be several dedicated lectures and keynotes about the various aspects of Smart Cities. Among the speakers will be Pieter Ballon, Brussels first Smart City Ambassador. You can find the full programme on the official website. New lectures will continually be added leading up to the event.
Registration
Access to the event is free. Register for a free 2-day pass on the event website.