Bastien Faugeroux, Trade advisor , posted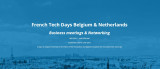 This autumn, the Trade Commission of the French Embassy in The Netherlands Business France is launching a brand new startup event called French Tech Days. Its main objective is to bring together a delegation of world-class high-tech innovative startups from France.
It's a conference to be held on September 27th in Amsterdam. The program includes conferences, a pitch contest, B2B meetings and of course the possibility to network.
We are officially welcoming the 11 following French Tech start-ups and they are especially looking forward to the matchmaking session on the 27th afternoon to have the possibility to meet local companies that matches with their needs:
• Adictiz
• Alertgasoil
• Boa Concept
• FACIL'iti
• Lemon Learning
• Moskitos
• Platform.sh
• Pocket Result
• SalesApps
• Toucan Toco
• Wegravit
The schedule on September 27th in Amsterdam is the following:
09:00 – 09:30: Welcome and opening speech by the French Ambassador in the Netherlands Philippe Lalliot @The Student Hotel (Wibautstraat 129, 1091 GL Amsterdam)
09:30 – 11:00: Conferences & feedback from entrepreneurs/keynotes
11:00 – 12:00: Pitch in front of the Tech ecosystem
12:00 – 13:30: Networking lunch
13:30 – 17:00: Matchmaking session // B2B Appointments
17:30 – 20:00: Closing cocktail with the French Tech community @TomTom HQ (De Ruijterkade 154 1011 AC Amsterdam)
If you are a Dutch corporate looking for an innovative solution that might revolutionize your company and/or interested in partnering with a French startup, join this matchmaking session!
Please do not hesitate to contact Bastien Faugeroux if you want to a be a part of the program:
Bastien Faugeroux
Trade advisor Tech & Services
T : + 31 (0) 20 794 19 67
bastien.faugeroux@businessfrance.fr