Susan de Grijp, Marketing and Communication , posted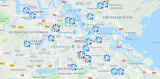 De gemeente Amsterdam plaatst dit jaar op 31 van haar eigen daken zonnepanelen. Het gaat onder meer om het stadsloket Noord en het Fietsdepot in Westpoort. In totaal plaatst de gemeente 12.000 zonnepanelen, die samen jaarlijks 3 megawattuur stroom opwekken. Dit staat gelijk aan het elektriciteitsverbruik van 1.500 huishoudens. Van de meeste panelen kunnen Amsterdammers eigenaar worden. Dit project is mede een gevolg van het initiatiefvoorstel van Groen Links en D66: Deelplatform voor zonnedaken.
Wethouder Vastgoed Touria Meliani: "We moeten stappen zetten op weg naar verduurzaming. De gemeente bezit zo'n 900 panden in de stad en het is zonde om al die ruimte op het dak niet te gebruiken. We kunnen water opvangen, met groen de luchtkwaliteit te verbeteren én we gaan nu dus ook zonne-energie opwekken. Het is mooi dat we bewoners en ondernemers hierin betrekken en ze de kans geven om hiervan te profiteren."
Sunprojects/Ecostroom en Janszon/Zuiderlicht gaan aan de slag met aanleg, financiering en beheer van de zonnepanelen. Deze partijen zijn lid van Zoncoalitie en geselecteerd uit een gunningsprocedure die de gemeente is gestart. Zoncoalitie is in 2016 geïnitieerd door de gemeente en Alliander onder de vlag van Amsterdam Smart City. Zoncoalitie is een onafhankelijk platform ter bevordering van zonne-energie.
Algemeen directeur Zoncoalitie Alex Muhring: "Zoncoalitie is trots dat wij met 4 van onze leden mogen bijdragen aan de verduurzaming van Amsterdam. Dit project past perfect bij onze missie om zonne-energie de norm te maken op grootzakelijk en maatschappelijk vastgoed en onze ambitie om bij te dragen aan het Amsterdamse doel om 250 megawatt te realiseren voor 2022".
Van een groot deel van de panelen kunnen Amsterdammers eigenaar worden door deel te nemen via een energiecoöperatie. Wilt u meedoen? Meld u dan aan bij Zuiderlicht of bij Ecostroom. Amsterdammers met en zonder dak kunnen zo bijdragen aan het opwekken van duurzame energie in hun stad!
De gemeente Amsterdam heeft de ambitie om de CO2 uitstoot van de stad met 55% in 2030 en 95% in 2050 terug te dringen. Daarnaast wil Amsterdam in 2040 aardgasvrij zijn. Om dit te bereiken is een omslag naar schone energie nodig. Op alle geschikte gemeentegebouwen komen daarom in de komende jaren zonnepanelen.
Voor een overzicht van de deelnemende daken en meer informatie over het project zie https://www.zoncoalitie.nl/gvamsterdam/