Rozemarijn deFeijter, Development Manager Smart Living @ PostNL at PostNL, posted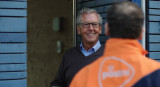 Almost half of the citizens of Amsterdam is lonely. Therefore, Amsterdam has set up a network of stakeholders who want to fight loneliness. Cordaan and PostNL are part of this network. We see many activities that are already organized for people, that can help them to deal with loneliness. Cordaan, for instance, organizes daily activities for seniors. However, citizens are not always familiar with the possibilities to get help and the activities that are organized for them in their own neighborhoods. Only people who actively seek help themselves or get help via their general practitioner or family now profit from the help organized by welfare organizations.
To increase awareness about these activities and possibilities, and eventually increase participation, Cordaan and PostNL work together in a new experiment. This experiment is one of the 39 out of 116 experiments selected by the municipality to decrease loneliness in Amsterdam. Cordaan and PostNL will focus on lonely seniors. Cordaan will make a selection of addresses of possibly interested senior citizens in Banne Buiksloot in Amsterdam Noord and will inform them about the experiment by mail. A week later, the mailmen will ring the doorbell and ask questions such as: 'Do you know about the activities organized for you in your neighborhood?'; 'Would you like to participate in these activities?'; 'Would you like to talk about the activities and possibilities with an employee of Cordaan?'. If the last question is answered with a 'Yes', an employee of Cordaan will make an appointment with the senior to determine which activities or what help would be suitable for that individual person.
PostNL investigates how it can react on a changing society by investigating new ways to leverage it's network, with over 20.000 mailmen. This new role for the mailmen holds numerous advantages. The mailmen are well-know in the neighborhood and work for a trusted brand. Therefore, we believe people will be more inclined to answer their questions at the door, than they would be if the person at the door were a complete stranger. In addition, the mailmen are not affiliated with a healthcare or welfare organization, and can start a conversation from a more neutral perspective. Therefore, with this cooperation between Cordaan and PostNL, we hope to reach more seniors who would benefit from the activities and possibilities in the neighborhood. Eventually, we hope to decrease loneliness of senior citizens by increasing their network in the neighborhood and their participation in that network.