Menno Rubbens, Director , posted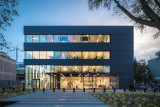 Over the coming months, the building of the Temporary Courthouse Amsterdam will be dismantled and completely reassembled on 'Kennispark Twente' (the area of Business & Science Park/Campus UT) in Enschede. There, it will have a new function as an office and research facility.
The temporary accommodation provided the Amsterdam judiciary continuity during the construction of the new permanent court. Now that this new home has been completed, the building will move as planned. At the time, the Central Government Real Estate Agency (RVB) tendered the assignment as a Design, Build, Maintain & Remove contract, which was realized by dpcp, a cooperation between cepezedprojects and Du Prie Bouw & Ontwikkeling. cepezed and cepezedinterior designed the building and Du Prie took care of the execution.
National Sustainability Award Steel after completion
Importantly because of its high degree of circularity, it won both the Amsterdam Architecture Prize (Golden AAP) and the National Sustainability Award Steel after completion. Also, in the report 'Circular Buildings – a measurement method for detachability' it scores the highest of all tested projects. The demountable construction and floors, which cepezed designed in close collaboration with IMd Consulting Engineers, play an important role in this.
Dismantling and reassembly with a 3D model
Yesterday saw the handover of the key from the RVB to dpcp, which heralds the new phase of the building. For the relocation, dpcp called in the expertise and experience of Lagemaat from Heerde, a company with a solid background in the dismantling and reassembly of buildings. Through a unique coding based on the 3D model and a 3D scan, the precise position of each part is known. Smaller elements are transported in containers and larger ones, such as the walkway, are loaded directly onto trucks. Lagemaat processes materials that are not reused in other projects. A minimal amount will be recycled in a high-quality manner. The dismantling period starts today already. The building is expected to be taken into use by the Overijssel Restructuring Company in early 2022.
Note from ASC: Would you like to know more? Let Menno know in the comments.