Kanteen25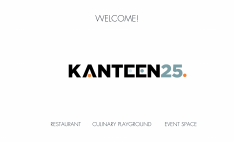 Kanteen25 is the spacious 800m2 restaurant near Central Station, where we celebrate good food, connection, young talent, and quality.
We use our space to bring change to the community: organise inhouse hospitslity programm for refugees, support local suppliers and have a zero-waste policy.
It's also a venue for large conferences and events for up to 330 people, with full equipment and food on request.