Luminext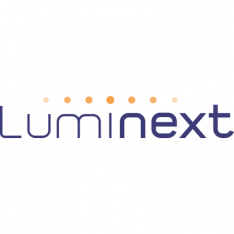 With Luminext's dynamic lighting systems for the outdoor area, you save energy and reduce maintenance costs and you minimize the light nuisance for local residents and wild-life.
Luminext works for governments, companies and industry. Together we ensure that Europe is no longer visible from space in 2030.
Save energy by dimming
By dimming public lighting as much as possible, for example when everyone is asleep, our customers save up to 70% energy. The ecological footprint is also being reduced. By increasing the light level as soon as people need it, for example during rush hour and on dangerous crossings, they are assured of good visibility and feel comfortable and safe on the street. Luminext lighting solutions also enable efficient maintenance and fault management. This reduces operational costs. You have complete control.
Complete outdoor lighting system
Luminext lighting systems consist of hardware and software. The Luminext Outdoor Lamp Controller in the luminaire communicates with our Luminizer management and control software. The complete management system offers a practical module for asset management, total automated fault and work order management, smart tools for controlling the dynamic lighting and clear reports for efficient business management.
Flexible and future-proof
The open Luminizer software and systems can be connected to the desired IT systems and with all brands and types of lighting equipment. This means you are flexible and prepared for your choices. Now and in the future.
Find out more
Read more about our lighting solutions and the reviews and stories of our clients at www.luminext.eu