Smart street lighting powered by direct current at Port of Amsterdam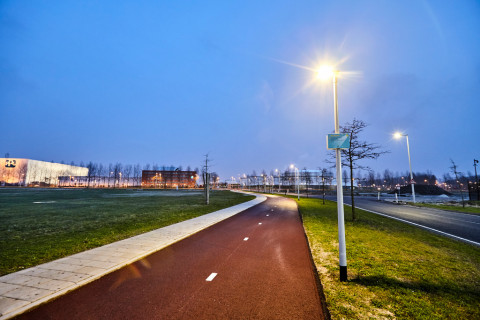 Lighting up bicycle paths with green energy
What is the goal of the project?
Port of Amsterdam chooses smart street lighting, a DC grid and sustainable wind and solar energy on a bike path in the area. In this way it is able to save costs and energy. On the other hand Port of Amsterdam provides light to citizens when they need it. As soon as a cyclist is nearby he can adjust the lighting by himself to a 100% with the GeoLight app on his own smartphone. During his tour he will feel save and comfortable. As soon as there is no activity the streetlights dim again automatically so energy will be saved.
What is the result of the project?
The 42 dynamic, dimmable LED luminaires are controlled remotely by Luminizer software from Luminext. Together with the independent DC grid instead of the regular AC grid and energy sourced fully from nearby floating solar panels and a miniature wind turbine it makes the street lighting system sustainable and energy and cost efficient. Also citizens have a comfortable light level on the street when they need it.
Who initiated the project and which organizations are involved?
Port of Amsterdam, Eneco, Luminext, Citytec, Windchallenge, Sunfloat
What is the next step?
The self-supporting, autonomous system is unique in the world, and the pilot project is to be gradually expanded until the entire port area is lit by this sustainable, safe and user-friendly system (red. Port of Amsterdam).
What can other cities learn from your project?
The solar panels charge a battery, with the direct-current DC grid then supplying the energy needed for the streetlights. This is energy-efficient, as there is no need for direct current (DC) to be converted into alternating current (AC) and vice versa.
The system, which was developed by Port of Amsterdam and Dutch sustainable energy company Eneco, will pay off in the long run, not in the least because there are no other energy costs involved. Since the energy is both generated and used locally, there is no need to install pipes and cables from the main power grid to the public area to be illuminated. Also eliminated are the need for converters, and DC cables are thinner than AC cables – all of which saves money on raw materials and investments. Amsterdam is the first city in the world to implement this type of self-supporting system, which is powered by the high-voltage DC grid and therefore does not rely on the public AC grid.
---