Maartje Luinenburg, Digital Marketing & Communication at University of Amsterdam (UvA), posted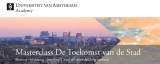 In deze masterclass denken we na en discussiëren over oplossingsrichtingen voor diverse uitdagingen. We proberen we ons een voorstelling te maken van de stad van straks. Geen toekomstvoorspellingen, maar toekomstvoorstellingen.
We gaan o.a. in op de onderwerpen
✓ Wat maakt een stad een stad?
✓ Wat is stedelijkheid?
✓ Hoe ontwikkelen steden zich, groeien ze allemaal?
✓ Bouwen we in of buiten de stad?
✓ Wie wonen er nu in de steden en wie kan er straks nog wonen?
✓ Wat voor werk is er nu in de steden en wat voor werk in de toekomst?
✓ Hoe houden we steden veilig in onzekere tijden?
✓ Is de stad voor de yup en expat of kan Jan Modaal er ook nog terecht?
✓ Is de stad nog de "emancipatiemotor"?
✓ Hoe "smart" wordt de stad?
✓ Mogen auto's straks nog in de stad?
✓ Hoe krijgen we de stad duurzaam?
✓ Blijft de stad bestuurbaar? Hoe houden we "de boel bij elkaar"?
✓ Welke dynamiek kennen stedelijke netwerken?
✓ Wat gaat dat betekenen voor stedelingen/niet stedelingen?
✓ Oplossingsrichtingen voor de knelpunten met woningmarkt, mobiliteit, duurzaamheid, klimaat, onder controle krijgen van de stedelijke arbeidsmarkt/evenwichtigheid.
✓ Nadenken over / input voor beleidsvorming over stedelijke vraagstukken/regionaal economische vraagstukken (stad voor iedereen - of ga er buiten wonen en regel goed vervoer; woningmarkt voor de middenklasse, etc).
Docenten
De Masterclass De Toekomst van de Stad is onder leiding van dr. Piet Renooy. Verschillende UvA docenten verzorgen een bijdrage in het programma o.a. prof. dr. Pieter Tordoir en dr. Tim Verlaan en diverse gastsprekers, te weten prof. dr. Gert-Jan Hospers, dr. Bas van de Griendt, drs. Josse de Voogd, dr. Jos Gadet, drs. Floor Milikowski en Nik Smit.
Deelnemers ontvangen een certificaat van deelname vanuit de Universiteit van Amsterdam