L Persoons, posted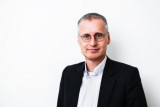 The Amsterdam Business School is honoured to invite Professor Viktor Mayer-Schönberger to speak about what companies will need to do in order to succeed in the new data economy. His lecture will take place on Friday 25 May.
Due to an abundance of data and the availability of data-driven machine learning systems, we are entering the world of the data economy, an economy in which data is replacing money as the main driver of market behavior. In this economy markets will soar, conventional firms will struggle and traditional financial institutions will face unlikely competition by small groups and individual actors. The future will be driven by data, but run by digital superstars. Avoiding this oligopolistic dystopia will require bold measures.
Event programme
18:00 – 18:45: Doors open, welcome drink
18:45 – 19:00: Welcome and introduction of Professor Mayer –Schönberger by Professor Marc Salomon (UvA - Amsterdam Business School)
19:00 – 21:00: Lecture + Q&A by prof. Mayer-Schönberger (University of Oxford)
21:00 – 22:00: Networking
Location
UvA - Roeterseiland Campus
Seminar room C.1.04
Nieuwe Achtergracht 166, 1018 WV Amsterdam
Registration
Registration is mandatory.
About Viktor Mayer-Schönberger
Mayer-Schönberger, professor at the University of Oxford is the author of over a hundred articles and eleven books on the economics and governance of information, of which the most recent is 'Reinventing Capitalism in the Age of Big Data' (translated in Dutch: 'De Data-Economie', 2018 Maven Publishing). His other international bestsellers include 'Big Data
' (co-authored with Kenneth Cukier, translated into more than 20 languages), 'Learning with Big Data' (also co-authored with Cukier) and the award-winning 'Delete: The Virtue of Forgetting in the Digital Age'.