Rooftop Revolution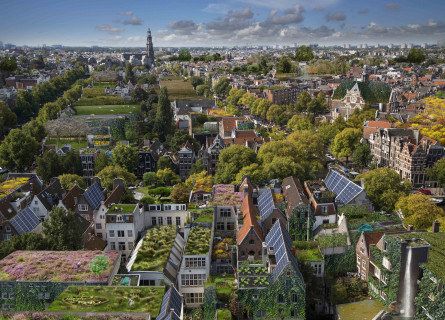 Rooftop Revolution is an independent foundation and supports in sustainable roof projects.
What is the goal of the project?
Rooftop Revolution realises new nature in cities. Where? On the largest undeveloped site: rooftops! Next to all great benefits green roofs have, a green view itself is beautiful. There is more than 400sqm flat roof in the Netherlands alone, which corresponds to 60.000 soccer fields. Opportunities all over. That is why in 2020 we want 10% of all rooftops to be green and in the future no rooftop unused.
What is the result of the project?
Since the start of Rooftop Revolution in April 2016 more than 140 rooftops registered with us and we have worked on 40 projects that correspondents with 14.000 m2 green rooftops in three cities in the Netherlands.
What we do:
• Consultancy & support in realisation: We advise housing agencies, developers, investors and other real estate owners whit their ambition to make their rooftops more sustainable. We assess rooftop potential in your real estate portfolio, we develop iconic projects and provide roof owners guidance from idea to realisation.
• Accelerating sustainable roofs: We support governments in formulating and achieving their objectives in the field of climate adaptation and resilient cities. We advise on rooftop policy, we support in communication, we stimulate area-oriented approaches and scale up multifunctional roofs in business districts.
• Assist the "Roofless": we help residents and entrepreneurs who want to make rooftops in their neighbourhood green. We do this on behalf of municipalities or social houding companies that want to mobilise residents.
Who initiated the project and which organizations are involved?
Initiated by: De Groene Grachten and De Gezonde Stad
https://rooftoprevolution.nl/nl/
---