Harmen van Sprang, co-founder & CEO Sharing Cities Alliance , posted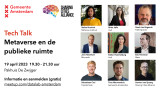 Lopen we straks allemaal met een Augmented Reality-bril door de stad? Waarmee je in een oogopslag de route ziet die je moet lopen, of het social media profiel van jouw tegenligger op straat kunt zien? Hoe is het dan gesteld met onze privacy in de openbare ruimte? En als de fysieke en virtuele wereld zo met elkaar verbonden zijn, is het dan nog wel duidelijk of iets 'echt' is?
Praat mee over de kansen en uitdagingen van Extended Reality voor de publieke ruimte. Extended Reality is een verzamelterm voor Augmented Reality (AR), Virtual Reality (VR) en Mixed Reality (MR) waarmee virtuele 3D werelden kunnen worden gecreëerd.
De toepassingen van Extended Reality zijn volop in ontwikkeling. Het lijkt een kwestie van tijd voordat deze een rol gaan spelen in ons dagelijks leven. Zo is het denkbaar dat Augmented Reality-brillen ons gaan ondersteunen in het onderwijs en op de werkvloer. Daarnaast is het denkbaar dat bedrijven virtuele lagen en toepassingen op de publieke ruimte projecteren waardoor deze voor iedereen verandert.
Daarom gaan we in gesprek met experts, onderzoekers en Amsterdammers over de mogelijke en wenselijke rol van Extended Reality. Gezamenlijk zoeken we een antwoord op de volgende vraag: hoe blijft de publieke ruimte een plek van en voor iedereen?
Tafelgasten:
Geert-Jan Bogaerts, Voorzitter van PublicSpaces
Stefan Roolvink, Onderzoeker bij Rathenau Instituut
Rivke Jaffe, Hoogleraar Stadsgeografie bij Universiteit van Amsterdam
Esther Hammelburg, Hogeschool van Amsterdam
Sebastiaan Crul, Onderzoeker bij FreedomLab
Joris Haverkort, Director Microsoft Technology Center bij Microsoft
Edo Haveman, Hoofd Public Policy Netherlands bij Meta
Moderatoren:
Timo Nieuwenhuis, onderzoeker bij Digitalisering & Innovatie, Gemeente Amsterdam
Harmen van Sprang, co-founder van de Sharing Cities Alliance