simone schoutens, Director , posted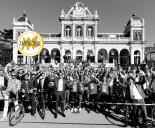 Join us for the 4th edition of Capital Tour XXL in Amsterdam on September 28th, 2017!
150 startup founders will hop on their bikes to visit all kinds of investors at their HQs in Amsterdam. In a group of around 12 startups, you will visit three investors at their offices. Each visit lasts 50 minutes and will be moderated by a tour guide from the startup community.
What can you expect?
- Explore the world of startup funding in Amsterdam in just one afternoon.
- Find out how investors think and what they are looking for.
- Get a chance to informally connect with relevant investors in the field.
Investors
The participating investors are all established Business Angels, VCs, Corporate Venture Funds and other finance wizards, willing to open their doors to startup founders looking for funding. The visits consist of an open Q&A session where you and your fellow startups can ask the investors everything you want to know about the funding process. From the must-have essentials to include in your pitch deck, to what to wear at your first meeting with an investor. At every visit, there is also room for three startups to give a one-minute pitch.
This is your chance to get answers to all your funding questions, find out how investors think, what they're looking for & which type of investment is right for your startup.
More info about the full program >> www.capitaltourxxl.com
Hope to see you September 28th!