Francis Zoet, Co-founder and COO at The Great Bubble Barrier, posted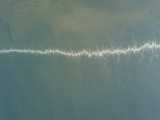 [EDIT: CROWDFUNDING 2018 ENDED SUCCESFULLY]
The city of Amsterdam and The Great Bubble Barrier will start fighting the plastic soup in their own canals! The Great Bubble Barrier has been selected for the Startup in Residence program, and will work towards a pilot in the city in the first half of 2018.
Everywhere around the world awareness is growing that the amount of plastic in our oceans is highly dangerous, for both our maritime ecosystems as well as our own health. Plastics have been found in almost every sea feeding bird species, as well as in the majority of the shellfish we eat.
The majority of the plastics in the oceans (80%) comes from land, via rivers and canals, and originates from cities. Here litter is blown into the water and transported straight to sea without any barrier to stop it. Barriers do usually not only block plastics, they block ship traffic and aquatic life as well.
With The Great Bubble Barrier we have found a way to block plastics and allow passage of ships and fish. We use a Bubble Barrier: a barrier made of air, which directs the waste to the side of the canal or river using the natural current.
After extensive testing in 2017, our Bubbles are ready for action and we need your help. We want to stop plastic pollution as soon as we can. Together with the city of Amsterdam, and every other city that is willing to tackle the problem.
To get a head start and make sure we realize our first permanent Bubble Barrier in 2018 we have started crowdfunding. Our plastic soup fighting partners have offered some great rewards that you will get in return for your donation. With your help, we can stop waste from entering the oceans!
Please support our crowdfunding and tell us where you think the next Bubble Barrier should be placed.
[edit: crowdfunding ended successfully at €55.000 in 2018]