Hanna Dijkstra, PhD Candidate at Metabolic, posted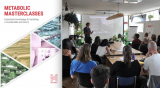 Metabolic has launched a range of educational Masterclasses to help any organization quickly understand and act on the opportunities of sustainability. Led by our consultants and executive team, the half-day Masterclasses combine both theory and practical elements. Backed up by live case studies, they give hands-on experience and ensure participants can begin applying the concepts immediately.
The four launching Masterclasses have been developed around Metabolic's own extensive experience and aligned to some of the most impactful areas of the economy.
Masterclasses available:
- Designing the Circular Cities of the Future
- Building Sustainable Food Systems
- Communicating Your Purpose and Making an Impact
- Applying the Circular Economy, with Eva Gladek
Over the last few years, the term "circular economy" has gained immense popularity among both businesses and governments. But what is the real value it can provide and which pathways towards it hold the most promise? Learn the details of a true circular economy, and its opportunities.
All Masterclasses are held at Metabolic Lab, Metabolic's event space and showcase of applied sustainability. Metabolic Lab is located within De Ceuvel, Amsterdam's pioneering sustainable business park and cleantech playground. Most Masterclasses are offered as group bookings to organizations, but you can also register your interest as an individual. There are also options to expand on these courses with additional modular topics that build skills and knowledge further.
For more information, email lab@metabolic.nl or phone +31 (0) 203690977
https://www.metabolic.nl/in-the-news/metabolic-launches-masterclasses-for-a-sustainable-economy/