Simona Nickman, posted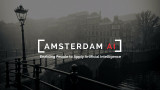 AMSTERDAM AI Gatherings are quarterly, 2 hour events for Artificial Intelligence practitioners focusing on lessons learned applying AI. Each gathering consits of 3 elements enabling interactive sessions:
Discover: 15min talks of industry peers sharing insights and actionable advice based on hands-on experiences applying AI. Check out our next AMSTERDAM AI talks below!
Share: Clinic sessions for practitioners to share their specific challenge applying AI gathering initial feedback from industry peers and fellow practitioners. Apply to present your challenge through the registration form!
Connect: Peer-to-Peer sessions on Machine Learning, Natural Language Processing and Computer Vision to connect with new and leading practitioners in your technology realm. Join us next Wednesday to expand your applied AI network!
PROGRAM OF AMSTERDAM AI 5.0 Edition
I. Fernando Flores / CTO & Lead Data Scientisr at MeasureWorks
> Real-time Anomaly Detection for RUM data
To detect anomalies successfully an accurate forecast is required. We needed to select the suitable algorithm from a handful of choices. After a thorough evaluation we chose Taylor's model due to its adaptability, robustness and understandability.
II. Maarten c. Stol / Principal Scientific Advisor at BrainCreators
> Lessons learned in NLP: recognising text based on segmentation of conversational content.
The challenges on recognising topics' changes on live streams and how we solved it.
JOIN US
Merkspace (Herengracht 499, Amsterdam) on Wednesday 27 September, 6:30pm (doors open at 6pm)
TICKETS
Amsterdam AI is a community lead innitiative. Income through ticket sales is being used to improve the quality of our events and ensure great networking and learning experience for our young but energetic community. Buyers of our "Only the Champions" supporter tickets will be mentioned and officially thanked at the event!
We are not handing out free tickets. Everybody in the room is a contributor to the event and a part of amsterdam.ai community.