Royal Haskoning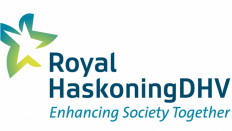 Program Partner Amsterdam Smart City
Enhancing society together
"Our world is in transition. Faced with the challenges created by scarcity of resources, climate change, an exponential growth in population and goods consumption, increasing demands on mobility networks and more, innovative solutions and more than ever - collaboration with an open and curious mind-set - are needed. By bringing together cutting-edge technology with tailored strategy and expert implementation, Royal HaskoningDHV is enabling cities to create the next generation cities of the future.
Innovation is integral to our business. Together with clients and partners we create new approaches and apply ideas across disciplines for smarter outcomes. We support clients in their changing roles in transitions and shape collaboration within and between organizations; sustainable transitions demand strategies and collaboration based on shared ownership.
With services in the fields of urban and rural development, water, infrastructure, transport, aviation, maritime, buildings, energy, industry and mining, our professionals contribute to better streets, neighborhoods and cities and to sustainable transitions on a global scale. And through our data and digital consultancy services and software we create a nearly endless array of possibilities to reshape our society and organizations.
Our promise is to Enhance Society Together with our clients and other stakeholders through innovation and co-creation, contributing to a more sustainable future for our children and our children's children. This is a commitment we choose to make; not because we have to, but because we care and want to create solutions which connect with people to make their lives easier, happier and safer.