Stay in the know on all smart updates of your favorite topics.
Amsterdam Smart City, Connector of opportunities at Amsterdam Smart City, posted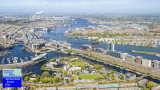 Do you want to connect, learn, and exchange experiences with Amsterdam Smart City representatives? Our programs match the needs of any local, national and international stakeholder who is interested in discovering Amsterdam's innovation ecosystem.
One of our roles is to distil key learnings from urban innovation projects in the Amsterdam metropolitan region and share those. Through our programs we also learn from other cities and their experiences.
We've made a selection of our most popular programs:
1. Smart City the Amsterdam Way 
We give you an overview of Amsterdam Smart City's program, governance and key projects. It's a light way to get introduced to it all in 1,5 hours and we can also offer this online. Cost: 500 euro.
2. Amsterdam Smart City Answers Your Questions 
Ask all your questions about Amsterdam Smart City and get advice on your Smart City Project or Program. Meet our representative online or face to face to get the insight you've been missing. Cost: 300 euro.
3. Amsterdam Smart City Deep Dives 
Go on a Deep Dive with Amsterdam Smart City and get to the bottom of the energy, mobility, digital city or circular economy transition during this customized 2,5 hour session with multiple experts from Amsterdam's ecosystem. Cost: 800 euro.
Where do the Amsterdam Smart City Programs take place?
Most programs take place, or at least start at, the Smart City Lab on the Marineterrein Innovation District. This is a "small space for big ideas" where we showcase examples of smart city solutions from Amsterdam. The Smart City Experience Lab is also a workplace where Amsterdam Smart City partners meet and collaborate. Groups visiting the Experience Lab can also visit the Marineterrein Amsterdam Living Lab on their own or as a part of an organized program.
Questions
Questions or looking to organize a different or customized program? Send an email with your request to cornelia@amsterdamsmartcity.com.
EKIM TAN, founder at Play the City, posted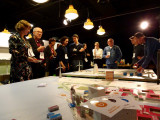 Explore circular city strategies through an interactive gaming method.
Learn about working circular city development through Play the City method. We welcome teams that have a serious interest in circularity. In an interactive, multi-actor environment you can test your ideas, build 'circular city' scenarios and exchange knowledge with your peers.
Are you an engineer, investor, urbanist, project developer, politician or a non-profit organization? Would you like to know how Buikslotherham neighborhood engages influential stakeholders to enable exchange of knowledge on circular urban transition through a city game?
City-gaming is a working method that allows participants to collaborate, learn and experiment in a realistic yet safe environment. This method allows experts to step outside their usual environment to think freely about ideas and scenarios that might help integrate clean technologies and urban metabolisms for overcoming the complexity of circular transformation.
There are no prescriptive scenarios or solutions. The game training serves players who, with their real-life expertise and experience, create scenarios based on tested policies. Then they assess their decision with and against other players. It is fast-paced and competitive, yet there are no winners and losers — everyone learns!
In this training, we present The Circular City game - a game that merges clean technologies and urban development principles. Built to become applicable both at the institutional and household level, the game's dynamic relies on the principles of renewable sourcing, repair, reuse and recycling of materials, biodiversity, and attractive human-scale built environment.
By learning about this method, you will:
*Enhance effective decision-making
*Learn from real world cases while networking with professionals from diverse sectors
*Learn how to adapt to and take action in multidisciplinary environments
*Elaborate on the new role of government, companies and communities
*Learn about your own negotiation skills, how they are perceived by other professionals and how you can improve them
If your team is interested in playing with another team from a particular stakeholder group, we can engage actors from municipalities, city-networks, universities, companies and citizen groups to test-play with your team for more diverse knowledge-exchange.
You may choose to book:
Demo session - lasts 1.5 hours
Full training session - lasts 3 hours
More info about Play the City's practice: www.playthecity.nl