Want to receive updates like this in your inbox?
Get notified about new updates, opportunities or events that match your interests.
Set up preferences
Maybe you will also like these updates
Beep for Help, Direct hulp aan huis. Oplossingen voor een fijn thuis. , posted
Ontmoet Beep for Help, een Amsterdamse sociale startup die ouderen en mantelzorgers hulp aan huis biedt.
Ontdek hoe het idee ontstond, leer meer over digitale marketing en social media en discussieer mee over bedrijfscultuur. Ook vertelt Iconica, onze app ontwikkelaar, over de Beep for Help app.
Ondertussen zorgen wij voor fris en lekkere pizza en is er ruim gelegenheid om bij te praten met diverse mensen uit het veld. Fijn als je ook komt!
De inloop is vrij. Reserveren is fijn, dan weten we hoeveel pizza we verzorgen. Reserveren kan met onderstaande link of mail annebet@beepforhelp.nl
Wanneer: 07/06/2023
Tijd: 17:30
Locatie: Apollolaan 151
Adriaan van Eck, Implementing IoT & Smart Energy , posted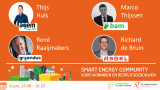 On June 6, Flexiblepower Alliance Network (FAN) and TKI Urban Energy are hosting the second webinar in the 2023 series of the Smart Energy Community: "Energy Communities and other collective solutions" (in Dutch).
Opening
Opening and update on the activities of Flexiblepower Alliance Network (FAN) by Adriaan van Eck, chairman of FAN.
Starting an Energy community, but how?
If you want to set up an energy community, where should you start? How do you organise an energy cooperation? Thijs Huls from the energy community Agem, in the Achterhoek, discusses what it takes to start an Energy community in terms of data, agreements and platforms and will explain how you can make an energy community really smart about their energy.
Power pitch: Groendus
Energy communities are not just for consumers, energy cooperations can also benefit businesses and entrepreneurs. René Raaijmakers of Groendus will tell us more about the opportunities for businesses to engage collectively in energy communities.
Power pitch: BAM
Within the innovation project TROEF, BAM is developing an energy-as-service concept. Marco Thijssen of BAM will explain more about the community platform that is part of TROEF and how they use gamification to encourage users to pursue their common goal.
Guide to Smart Energy Systems
Richard de Bruin of Rebel Group presents the Smart Energy Systems Guide, a report the Rebel Group developed on behalf of TKI Urban Energy. Richard will take us through the approach and considerations involved, taking three perspectives: energy hubs, business parks and energy communities.
Register:
https://cdn.flxml.eu/f-0411e667dc269719
Website:
https://topsectorenergie.nl/nl/agenda/smart-energy-community/
Jaïr van der Bruggen, Musician, Events Manager , posted
Your closet is feeling a tad musty? Got some cool trash clothes you don't wear anymore, and want to get some pre-loved items in return? Come hang out, have a beer, listen to some music, make connections and renew your wardrobe!
🗓️ May 28th
⏰ 1pm - 8pm
📍 Gasthuismolensteeg 3, Amsterdam
Instructions:
1. Bring items you don't wear anymore
2. Exchange for tokens 
OR purchase tokens for 2,50€
3. Use tokens for second-hand clothes, curated by us and swapped by other participants
OR use tokens for drinks
4. Brag to your friends about how sustainable your new wardrobe is
Graphics by @tina.bez.ic
More news