Maybe you will also like these updates
Menno Houtstra, chairman cooperative , posted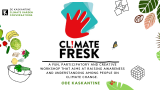 After the Climate Fresk game, you will have a clear and thorough understanding of the climate problem. You will get a precise idea of the interrelated causes of climate change and the angles from which the problem should be approached. It is like the mist is clearing up around this complex problem! Even self-declared "climate responsible" people often discover after this game that they had wrong assumptions or ideas about the climate problem that in fact lead to false hopes or fears.
The 3 hours game has been developed in France. It has recently become very popular as a fast education tool, especially for companies that want to position themselves in this field together with all their employees.
The Kaskantine offers its place and platform for trainers and facilitators of the Climate Fresk to have regular sessions and train new facilitators to build this network further. You can do the Climate Fresk also in other cities in the Netherlands and online. 
This time the game is in English, next time in Dutch!
https://climatefresk.org #climatefresk#climatechange#education#kaskantine
Wouter Mulders, Communications Coordinator at Drift, posted
Pioneers struggling with uncertainty & controversy when working on sustainability transitions: you are not alone. Whether you're facilitating transition experiments around nature based solutions, setting up an innovative project for citizen participation in energy or just eager to learn about reflexive monitoring, our Reflexive Monitoring course will provide you with valuable new approaches and insights.
In this 3-day course, dr. PJ Beers (DRIFT) and dr. Barbara van Mierlo (WUR) will guide you through the ins and outs of reflexive monitoring.
Arpad Gerecsey, Director/Chief Innovation Officer/Board member at A Lab Amsterdam, posted
A Lab is een gemeenschap van 300 creatieven, technologen en sociale ondernemers aan het IJ. Voor en met hen organiseren wij evenementen, verhuren ruimte en brengen we partners uit cultuur, wetenschap, overheid en maatschappij samen.
Wij zijn een Broedplaats zonder winstoogmerk en zoeken een gepassioneerde en ervaren community collega die ons team van vier komt versterken.
Zin in? Klik dan op de link hieronder.
More news