Want to receive updates like this in your inbox?
Get notified about new updates, opportunities or events that match your interests.
Set up preferences
Maybe you will also like these updates
Gert Roskammer, Community Manager , posted
Hoe zorgen we ervoor dat we in 2050 de klimaatdoelstellingen halen? De RAI in Amsterdam wil een bijdrage leveren aan de doelstellingen voor haar omgeving om zo te helpen de doelstellingen te behalen. Hoe? Arcadis ondersteunt hen met ontwikkelen van flexibele systemen, zoals een flexibel energiesysteem dat wordt verbonden wordt met een mobiliteitshub. Wilt u weten hoe dat precies werkt? En hoe je systemen zo kunt organiseren zodat ze bijdragen aan de leefbaarheid van de stad? Meld je dan aan voor het webinar met <strong>André Hekma</strong> van Arcadis op 22 juni!
Meld je aan
Datum: 22 juni 2023, 9.00 uur – 9.30 uur.
Locatie: Online.
Angela Lopez, Marketing , posted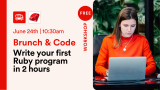 Share a coffee and croissant with us and get an intro to Ruby!
Please note: You will need to bring a laptop to participate in this workshop! 🧑‍💻
In this workshop, you will learn the fundamentals of programming and dive into back-end programming. You will be using the language Ruby, a programming language which focuses on simplicity and productivity. It has an elegant syntax that is natural to read and easy to write. This workshop is for complete beginners!
In this 2 hours workshop you will learn:
✨ The basics of programming, including data types, variables, conditions and loops.
✨ Core concepts of Ruby that can be used into any programming language
✨ The basics of a back-end language and your first step to entering the world of web development.
About this workshop:
This workshop will start with a 1-hour lecture to introduce the core concepts of the day. You will then be onboarded on Le Wagon's e-learning platform and access the slides, a sum-up of key notions as well as exercises to keep practicing after the workshop.
We look forwards to seeing you there!
The Le Wagon Amsterdam Team 🚀
This workshop is brought to you by the #1 rated coding bootcamp worldwide: Le Wagon emerged in 2014 as one of the first tech bootcamps in France, offering web development and data science programs. Now, it has grown to a robust global community of tech talents with over 40 Le Wagon campuses in Amsterdam, Berlin, Lisbon, London, Melbourne, Mexico, Montreal, Singapore, São Paulo, Paris, and other cities worldwide.With this expansion, Le Wagon has helped over 19,000 developers, data scientists, designers, and entrepreneurs start their new careers in tech. Nine years on, the school continues to inspire tech aspirants to find their path in the industry.
Marjolein Bot, Lead Energy&Digital at Amsterdam Economic Board, posted
Het Actienetwerk GasTerug zet zich in om zoveel mogelijk energiebesparingen te realiseren in de metropool Amsterdam. Want je bent het meest duurzaam door de energie die je niet gebruikt.
Het netwerk bestaat uit een groeiende groep van mensen die zich op verschillende gebieden hiervoor willen inzetten - en jij kunt ook meedoen!
Op 22 juni is de volgende netwerkbijeenkomst. Wil je hierbij zijn, meld je dan aan via:
https://ikzetookdeknopom.nl/2023/05/27/7e-netwerkbijeenkomst/
More news