Want to receive updates like this in your inbox?
Get notified about new updates, opportunities or events that match your interests.
Set up preferences
Maybe you will also like these updates
Liza Verheijke, Community Manager at Amsterdam University of Applied Sciences, posted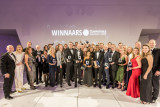 <strong>Zeno AI was awarded a Dutch Applied AI Award on Wednesday evening, 5 October. WSK Medical's technology helps ENT doctors detect throat cancer in patients at an early stage. This is done during an endoscopy, with Artificial Intelligence providing instant analysis. A great example of humans and technology working together.</strong>
The Dutch Applied AI Award is a jury prize and was presented for the third time during the annual Computable Awards. The award, which rewards AI innovations, is an initiative of Computable (the platform for ICT professionals), De Dataloog (the Dutch podcast on data and AI) and the Centre of Expertise Applied Artificial Intelligence of Amsterdam University of Applied Sciences. DEARhealth (2020) and BAM Infra Asset Management (2021) preceded Zeno AI as winners.
IMAGE RECOGNITION ON THROAT CANCER VALUABLE
According to jury president Nanda Piersma, doctors are very happy with the application of WSK Medical. The application of image recognition to throat cancer works and is valuable. 'The technique has reached a new group of users. ENT doctors have adopted Zeno AI in their daily work. That makes the application unique', said Piersma, who is scientific director at the Centre of Expertise Applied Artificial Intelligence. 'In addition, the technology is transparent and user-friendly. We look forward to its further development, so that larger target groups are reached and new AI techniques emerge in this specialism.'
SUPPORT FOR CORRECT DECISIONS
Radboudumc in Nijmegen is the first hospital to use Zeno AI at its outpatient clinic. The AI application immediately starts analysing as soon as an ENT doctor turns on the endoscope. As a result, using Zeno AI can reduce the time to diagnosis from two/three weeks (average waiting time) to the same day. Faster diagnosis of throat cancer enables a faster care plan for patients. Importantly, the technology only makes predictions based on knowledge and thus does not diagnose. Zeno AI supports the ENT doctor in making the right decision, for example when it is not immediately clear what is going on.
Zeno AI is currently going through the process of CE marking (MDR). This assesses not only clinical validation, but in particular the technical architecture and design, as well as traceability and risk management.
ENGINE OF INNOVATION
The Dutch Applied AI Award jury noticed that there is considerable innovation in the techniques behind Artificial Intelligence, creating interesting new applications. Piersma: 'We see well-developed applications for specialist sectors this year, as well as applications with a broad societal impact.'
The award criteria on which the jury selects focus on the level of application, transparency, and uniqueness of its kind. An AI initiative additionally scores highly if a user is involved in the application. 'The AI must really add value', says Piersma. 'With the Dutch Applied AI Award, we want to actively encourage innovation, so that applications arise that otherwise would not come to fruition.'
The winning 2022 initiative also lands in a nice AI ecosystem - the AI hub Amsterdam - in which Amsterdam University of Applied Sciences participates alongside other knowledge institutions and hospitals in the region.
Highlight
from Sophie van der Ploeg, Community Manager & Program Lead Digital at Amsterdam Smart City, posted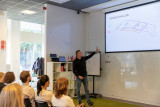 Data Dilemmas is a collaboration between Amsterdam Smart City and the City of Amsterdam's Data Lab. During Data Dilemmas, we explore the possibilities for using data and new technologies to address urban and societal challenges, with a focus on responsible digitalization. The goal is to use data to make cities more safe, clean and accessible. But what happens to all the data that is collected? Which dilemmas do we encounter when we collect (personal) data to improve the city? These questions are important for everyone: governments, knowledge institutions, companies, and civil society. In the latest edition of Data Dilemmas, hosted on the 29th of September 2022, we invited Joep Meindertsma, Tom van Arman and Jan van Boesschoeten to take us through the experiences, dilemmas and lessons learned from the Amsterdam Data Exchange (AMdEX) initiative. Marit Hoefsloot from Waag gave a critical reflection on the presented Data Dilemmas.
Joep Meindertsma (Dexes) – Introduction to AMdEX
AMdEX is a collaboration between the Amsterdam Economic Board, AMS-IX, Dexes, the University of Amsterdam and Surf. AMdEX aims to give people more control over their data through a secure, trusted and neutral infrastructure which enables sharing data under specific conditions. AMdEX has two missions: give people more control over their data and make it more attractive to share data. These two missions are a data dilemma in itself.
Data exchange is currently monopolized by a handful of major players and the web is more centralized than ever before. The direct connections between people and organisations have become fewer. This is because we're increasingly using middle-men, services between the data source and the user. Joep explains: "If you want to see someone's vacation photos, you have to send a request to Facebook. Facebook owns the data, decides who can access it and dictates what the app looks like". This problem is not limited to vacation photos or Facebook. It is about all our data. Almost all services are middle-men, with its own closed way of data sharing. This creates data silos – places where data is effectively locked away.
Joep refers to three types of data: "data we want to share, data we don't want to share, and data we might want to share." This 'might share' category often contains valuable data, but it can be costly or difficult to share. Set conditions makes sharing this data easier. AMdEX makes this possible through a few software projects they're currently building: eFlint (a new language to describe legal constructs), DexPod (an open source personal data server) and Atomic Data (a specification and open source software to improve data interoperability).
Tom van Arman (Tapp) - AMdEX case study: Marineterrein Sensor Data
Meanwhile, the Marineterrein in Amsterdam is full of sensors, collecting all kinds of data. Think of MicroLAN measuring the water quality, or Public Eye collecting crowd data. Marineterrein is a 'living lab', where technologies that contribute to a sustainable and future-proof city can be tested. Together with AMdEX, Tom looked at how the collected data can be made accessible to third parties, such as researchers, journalists, students, artists and entrepreneurs. The Marineterrein and the data collectors, for example Public Eye, set conditions for the data to be used. Tom describes how this works in practice: "If a journalist is interested in using crowd data collected by Public Eye, they must be a member of the Marineterrein community and subscribed to AMdEX. If the journalists meets these requirements, they will receive an AMdEX email with a data download link."
Jan van Boesschoeten (AMS-IX) - The Future of AMdEX
As Joep and Tom already mentioned, there are many questions around data: who owns the data, what are you allowed to do with it? How do you work together with your competitors to get more value out of your data? A data exchange can be a solution to these questions. This is why AMS-IX, a neutral member-based association that operates multiple interconnection platforms, is connected to AMdEX. Jan shortly describes the future of the AMdEX initiative. The field lab with use cases ends in June 2023, and at that time AMdEX also aims to be a legal entity. Additionally, one of their use cases involving KLM will be presented at AMS-IX's MORE-IP community event in June. After that, AMdEX will onboard new use cases.
Marit Hoefsloot (Waag) – A critical reflection on the Dilemmas encountered in AMdEX
Last but not least, Marit Hoefsloot from Waag reflects on the dilemma's presented by Joep, Tom and Jan. Marit describes that the use of data is often seen as an act of notion, whilst privacy is more of a passive notion (not using the data at all). However, it's possible to use data whilst also protecting ones privacy. A good example of this is IRMA, a privacy-friendly digital wallet which can be used for authentication. As Marit pleads: "Data usage and privacy are not necessarily contradictory, it is about both." Organisations should see protecting privacy as their own responsibility, instead of giving the illusion of consent with an opt-in or opt-out option.
The second dilemma Marit reflects on is about developer productivity vs. standardisation. Standardisation takes a lot of time, which takes away from innovation and productivity. However, you need standardisation to develop these kind of exchange platforms, as there are many organisations that are involved. Marit describes that the real questions we should talk about are: what is the flexibility of the standard? Do we create the standard together, or more top-down through legislation? Who are we standardizing for? "We should prioritise standardisation, but do it in an open and inclusive way."
Would you like to join our next Data Dilemmas at Datalab? The upcoming session is scheduled on the 8th of December (topic and speakers to be announced). Keep an eye out on our platform for the programme!
Photography: Myrthe Polman
Anne-Ro Klevant Groen, Marketing and Communications director at Fashion for Good Museum, posted

Exhibition Knowing Cotton Otherwise
Cotton is perhaps the world's most well-known fabric, however, many stories behind cotton are less known. These untold and sometimes unexpected perspectives have been collected and brought together in the exhibition, Knowing Cotton Otherwise. Centred on collectivity and community, local artists have been invited to present work that connects and intersects with different themes relating to the story of cotton. By mixing styles and stories, Knowing Cotton Otherwise creates a multifaceted experience, inviting you to reflect, question, play and wonder. 
Fashion, art and social change
Built around different themes telling the story of cotton, the exhibition highlights the relationship between cotton and the fashion industry, the role of cotton in an increasingly intertwined web of global cultures, and the sustainable innovations driving its circular transformation. The exhibition provides questions such as where does cotton come from? How is it grown? What is the future of cotton and the role of innovation? How should we relate to the more questionable aspects of cotton, from its history of forced migration to more modern-day challenges? And how can we celebrate cotton, the connections it creates and the opportunities around it?
Collectivity and Community
Knowing Cotton Otherwise is presented in different phases throughout the year in which the exhibition grows and changes. The first phase features artists Benoît Gilles Michel, Caithlin Courtney Chong, Mario Gonsalves, Niño Divino, Noah Cohen, Nsimba Valene and Tasio Bidegain as well as the collectives OSSO Archive, Studio Papa and The Gang is Beautiful. The exhibition also showcases innovative technologies in material traceability and dyeing from Fashion for Good Innovators Oritain and Officina39. Knowing Cotton Otherwise invites you to question the content presented, examine your ideas and engage together in a process of self-reflection and critical consideration.
More news