Want to receive updates like this in your inbox?
Get notified about new updates, opportunities or events that match your interests.
Set up preferences
Maybe you will also like these updates
Xander Bakker, Community Manager at Green Innovation Hub, posted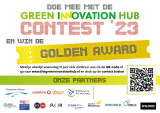 Green Innovation Hub Contest 2023! "Pitch voor Impact"
In Flevoland en Almere worden de komende jaren 130.000 nieuwe woningen gebouwd. De grootste bouwopgave van Nederland! Heb jij een innovatief product of dienst waarmee jij kunt bijdragen aan duurzame en inclusieve leefomgeving. En impact kunt maken op deze regio én de rest van Nederland. Doe dan mee met de Green Innovation Hub Contest 2023 en win de Golden Award.
🏆 Een trip naar Smart City Expo 2023 in Barcelona, coaching door expert, gratis office space, ondersteuning bij businesscases en modellen door partners, V.I.P.-tickets voor Ziggo Dome concert naar keuze en nog veel meer prijzen.
Hoe werkt het?
1️⃣ Doe mee en maak impact met jouw product of dienst.
2️⃣ Meld je uiterlijk woensdag 21 juni vóór 23.59 uur via de onderstaande link.
3️⃣ Op donderdag 22 juni maakt de jury bekend welke start-ups
en scale-ups mogen pitchen.
4️⃣ Mag je pitchen, dan nemen wij contact met je op zodat jij
jouw pitch goed kunt voorbereiden.
5️⃣ Woensdag 5 juli is de Green Innovation Hub Contest Day
waarbij je mag pitchen!
Wil jij deelnemen aan de contest of ben je geïnteresseerd om naar de pitches te kijken? Meld je dan nu aan via de onderstaande link.
Liza Verheijke, Community Manager at Amsterdam University of Applied Sciences, posted
In the Month of AI in Education, Amsterdam Data Science & the Centre of Expertise Applied AI join hands 🙌🏻 Initiator for the online meetup is the Smart Education Lab of Amsterdam University of Applied Sciences.
💬 Meetup: Intelligent Interaction in Education
📅 Tuesday 27 June
⏰ 16:00 - 17:30 hours
📍 Online at https://edu.nl/faucb
Expect inspiring presentations with examples from primary, secondary and higher education on the topic of Intelligent Interaction.
Speakers: Bert Bredeweg | Marco Kragten | Somaya Ben Allouch | Erwin Van Vliet
Organisation: Catherine Mills | Liza Verheijke MA
The Month of AI will take place for the third time in June 2023 and is organised by SURF, the Dutch AI Coalition | NL AIC working group Education, National Education Lab AI (NOLAI), Kennisnet and Special Interest Group AIED. For an overview of all activities, see 👉🏻 https://www.surf.nl/agenda/maand-van-artificial-intelligence-in-het-onderwijs/programma-maand-van-ai
Beth Njeri, Digital Communications Manager at Metabolic, posted
"To help protect and restore nature, what does my company need to do?"
The answer lies in science-based targets! With governments prioritizing climate and biodiversity goals, more businesses are eager to align their efforts. Science-based targets provide a clear roadmap for companies to make a positive impact on the environment.
Discover what science-based targets are, how they benefit businesses, and how Metabolic can support you in setting and achieving these ambitious goals.
#ScienceBasedTargets #NaturePositive
More news