---
Want to receive updates like this in your inbox?
Get notified about new updates, opportunities or events that match your interests.
Set up preferences
Maybe you will also like these updates
Marjolein Bot, Lead Energy&Digital at Amsterdam Economic Board, posted
Het Actienetwerk GasTerug zet zich in om zoveel mogelijk energiebesparingen te realiseren in de metropool Amsterdam. Want je bent het meest duurzaam door de energie die je niet gebruikt.
Het netwerk bestaat uit een groeiende groep van mensen die zich op verschillende gebieden hiervoor willen inzetten - en jij kunt ook meedoen!
Op 22 juni is de volgende netwerkbijeenkomst. Wil je hierbij zijn, meld je dan aan via:
https://ikzetookdeknopom.nl/2023/05/27/7e-netwerkbijeenkomst/
Adriaan van Eck, Implementing IoT & Smart Energy , posted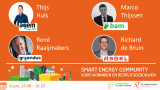 On June 6, Flexiblepower Alliance Network (FAN) and TKI Urban Energy are hosting the second webinar in the 2023 series of the Smart Energy Community: "Energy Communities and other collective solutions" (in Dutch).
Opening
Opening and update on the activities of Flexiblepower Alliance Network (FAN) by Adriaan van Eck, chairman of FAN.
Starting an Energy community, but how?
If you want to set up an energy community, where should you start? How do you organise an energy cooperation? Thijs Huls from the energy community Agem, in the Achterhoek, discusses what it takes to start an Energy community in terms of data, agreements and platforms and will explain how you can make an energy community really smart about their energy.
Power pitch: Groendus
Energy communities are not just for consumers, energy cooperations can also benefit businesses and entrepreneurs. René Raaijmakers of Groendus will tell us more about the opportunities for businesses to engage collectively in energy communities.
Power pitch: BAM
Within the innovation project TROEF, BAM is developing an energy-as-service concept. Marco Thijssen of BAM will explain more about the community platform that is part of TROEF and how they use gamification to encourage users to pursue their common goal.
Guide to Smart Energy Systems
Richard de Bruin of Rebel Group presents the Smart Energy Systems Guide, a report the Rebel Group developed on behalf of TKI Urban Energy. Richard will take us through the approach and considerations involved, taking three perspectives: energy hubs, business parks and energy communities.
Register:
https://cdn.flxml.eu/f-0411e667dc269719
Website:
https://topsectorenergie.nl/nl/agenda/smart-energy-community/
Wouter Mulders, Communications Coordinator at Drift, posted
As DRIFT, we're noticing that changemakers in the energy transition are currently facing challenges that we could only dream of years ago – or that kept us up at night. In this question hour, you get to ask transition experts Gijs Diercks and Noortje Flinkenflögel all sorts of questions about the energy transition in general and our course Versnelling van de Energietransitie in particular.
More opportunities