A Living Lab Way of Working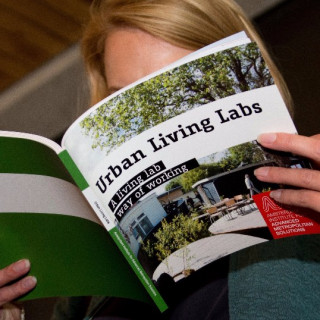 Providing you practical tips and tricks to improve your living lab. Check out the publication in the link below!
What is the goal of the project?
Urban living labs have become a popular phenomenon in today's cities. The Living Lab approach would provide real life research with its multiple stakeholders in a co-innovating inclusive setting, crucial in creating metropolitan solutions with impact, that will be adopted smoothly and swiftly by all involved, and thus help achieve prosperous living environments that are more liveable, sustainable, resilient and just.
Who initiated the project and which organizations are involved?
AMS Institute worked together with the TU Delft, and the great help, support and insides from all case study partners.
What is the next step?
Just do it - we want to invite all people working on solving urban problems to see if a Living Lab Way of Working is a method for them. If so, use the method! We would really like to hear about your experience on this way of working - to strengthen the research and add to the tips. We want to learn from you!
What can other cities learn from your project?
The living lab way of working guides actors, all over the Netherlands or Europe, in what to think about in which stage of the process, while offering advice on elementary questions such as for example how to set up a project, how to formalise the made agreements, how to achieve inspiring co-creation sessions and how to manage an innovation collectively through a suitable legal organisational form. Finally, recommendations are made to ensure that the evaluation, refinement and dissemination activities in the living lab are conducted with success.
http://www.ams-institute.org/solution/urban-living-labs-2/
---