Ioannis Ioannidis, Entrepreneurship Program Associate at AMS Institute, posted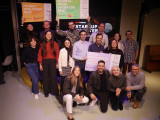 When:
Call for applications is open until April 2nd. The program will last from April 2023 until early July 2023.
What:
The AMS Startup Booster is a business idea development and validation program hosted by AMS Institute, aiming to help aspiring entrepreneurs turn their gut feeling into a business. The entrepreneurs are expected to pursue an impact-driven startup in the field of urban tech.
Lasting 3 months, the AMS Startup Booster 2023 will start on April 14th and run until early July 2023. The program will be hybrid, mainly physical at the AMS Institute (Marineterrein, Amsterdam). The program is most effective when all teams are fully committed so during the aforementioned time period there is a minimum requirement of 8 hours per week for each startup.
How: Building blocks of the AMS Startup Booster program
The program consists of key components that help prepare for a successful start-up:
An entrepreneurship curriculum with more than 20 workshops & masterclasses
Mentoring by Industry experts & successful entrepreneurs
Access to cutting-edge research by AMS Institute experts
Connections & Insights into how public organizations work through our partnership with Gemeente of Amsterdam
Lifelong access to online entrepreneurship & pitching courses
Office space & Makerspace
1K Credit for Miro
Cost & equity free
Workshops & Masterclasses by renowned professionals
Through a series of workshops and masterclasses offered by renowned professionals & business experts, we take your startup idea from a concept to a validated business model. During these workshops, the following topics will be addressed:
Research Fundamentals & Problem Definition
Market Segmentation & Customer Personas
Customer Discovery
Value Proposition & Business Model Design
MVP Design & Prototyping
Experiment Design
Pitching
In addition, our complimentary masterclasses will cover topics such as Team Fit & Alignment, Marketing & Branding, IP Rights, Finance & Funding, and many more. Peer-to-peer sessions and 1-on-1 coaching will complete the free services we offer to the selected startups. In total, the startups will get a 360 entrepreneurship curriculum consisting of more than 30 workshops & masterclasses.
Demo Day: Pitch & win fantastic prizes
We close off the program with a Demo Day during which the teams showcase their business ideas and prototypes to a broad audience of experts, investors, and entrepreneurs and compete for a list of amazing prizes! Prizes include:
A prize of €5000 euros cash for product development
An in-kind prize of €10.000 for a feasibility experiment in the testing area of Marineterrein Amsterdam Living Lab
Access to follow-up programs & funding opportunities from AMS Institute & founding partners (WUR & TU Delft)
Additional customer discovery sessions & continuous coaching & mentoring
Office Space & Makerspace
Promo material & access to a large network of public and private AMS Partners
In addition, connections with other programs and potential investors will be made.
For whom?
We are looking for ambitious students, researchers and young professionals who have an awesome business idea that could impact city life and solve metropolitan challenges. Please note we are looking for teams not a single founder.
Registration
Apply for the AMS Startup Booster via this form. Applications should be submitted no later than April 2nd.