Instock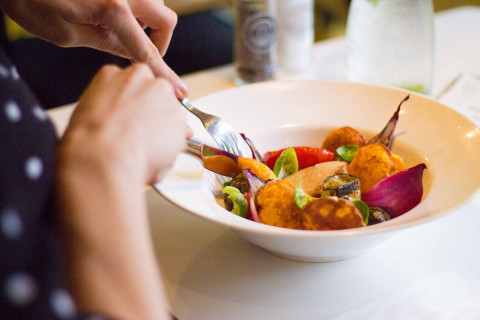 What is the goal of the project?
One third of the food in our world is wasted. We want to change this! We take on this challenge quite literally by cooking with products that would otherwise remain unsold. Moreover, we raise awareness about the subject with our Masterclasses, Instock Cooking cookbook and education projects. The profit we make we use to sustain our mission, and create more impact. The Instock pop-up restaurant in Amsterdam was so popular that we have been able to expand to three permanent restaurants in Amsterdam, The Hague and Utrecht, a food truck and a catering service. Additionally, we've created craft beer, made out of rescued potatoes and bread and started our own Food Rescue Center. With this Center we offer rescued fruit, vegetables and potatoes to other organisations in the food service industry.
What is the result of the project?
At the moment we have rescued over 350.000 kilo of food from being wasted with our restaurants and projects. We want to contribute to the sustainable development goal 12.3, which states that by 2030 food waste should be reduced with 50%. We hope we can contribute to this SDG with 50 million kilos of rescued food by 2030 by joining forces with other food industry entrepreneurs.
Who initiated the project and which organizations are involved?
Selma, Merel, Bart and Freke met each other at Albert Heijn. Being assistant supermarket managers, they saw the opportunity to create a better destination for unsold products. They started Instock as a means to battle Food Waste. Food waste is not just about the loss of food and money; in the process of packaging, transporting, cooling and preparing the food, a great deal of effort is spoiled as well. The wastage affects everyone, from farmer to consumer. We believe that the best way to deal with the problem is to join forces with all the involved parties, and combine that with a creative entrepreneurial mindset. We work closely with rescue partners and sell their products in our restaurants. We also work closely to the Dutch Food bank by introducing them to potential suppliers and making them familiar with logistical pick-up processes.
In September 2017 we opened our own Food Rescue Center. At the moment we are working together with aournd ten other restaurants and caterars, but we hope this number will grow in the future.
What is the next step?
Continuing with our battle against food waste in innovative ways. We are looking for locations for new restaurants and are experimenting with new products. Furthermore we are continuously developing our Food Rescue Center. By offering more rescued food to other entreperneurs we will be able to rescue thousands of kilos of food, and make more impact together.
We will keep raising awareness about Food Waste in a positive and fun way. Food is all about enjoyment after all!
instock.nl
---