Sunny Soccer ASV Arsenal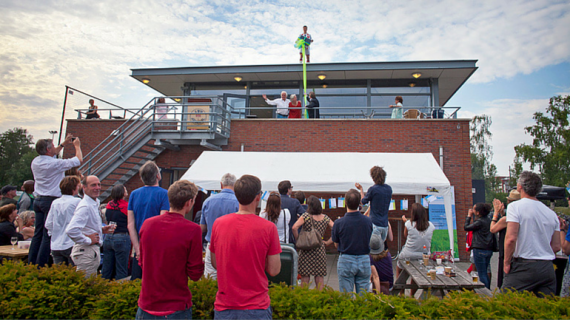 Citizens, offices and organizations within the metropolis Amsterdam live and work on clean energy
Partners
What is the goal of the project?
It all started three years ago. Sitting around kitchen tables with a view on flat, sunny roof of the Amsterdam soccer club ASV Arsenal. Inhabitants of houseboats on IJsbaanpad aiming for a world on clean energy discussed how nice it would be to produce their own electricity on this sunbathing, sporty roof. Together with neighbours, soccer players and any others worrying about a world dependent on fossil fuels. They founded their own energy cooperation, Zuiderlicht.
The long term aim of Zuiderlicht is: citizens, offices and organizations within the metropolis Amsterdam live and work on clean energy. Starting in your own neighbourhood.An ever growing group of Zuiderlicht members have first invested in smaller scale solar roofs, on a city chicken farm and a graveyard. Together with the Amsterdam Investment Fund, they now financed 480 solar panels on IJburg College and the 178 panels on ASV Arsenal.
What is the result of the project?
With its solar roof – in combination with high tech Philips OptiVision LED-­lightning ASV Arsenal is on its way to become one of the greenest sport clubs in Amsterdam. It might already have the lowest energy bill. The club is inspired to invest even more, in order to reduce its energy need.
Who initiated the project and which organizations are involved?
Organisations involved in this project include: Zuiderlicht, Rabobank, Alliander and local energy networks & services.
---