Billy Nash, Community/Events Intern at A Lab Amsterdam, posted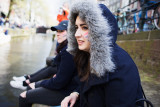 Photo exhibition by photographer Ahmet Polat about the assimilation of refugees shows the other side of the refugee situation.
The exhibition shows how refugees are being assimilated into Dutch society through their studies and work. Refugees are not just refugees. They are also students, friends and people with their own identities. After their arrival in the Netherlands, they make a tremendous effort to build up a new life in their new home country.
'My New Future' (in Dutch ' Weer Toekomst' ) is a traveling photo exhibition by the Foundation for Refugee Students (UAF) and photographer Ahmet Polat. The exhibition will be opened on 14 July and can be visited until the end of august at The Playground and other spots in A Lab.
More information about the exhibition:
Polat regards the exhibition as a valuable addition to the way in which refugees are currently being portrayed. 'By photographing people seated in a corner of a room with a thin mattress on the floor, completely alone, in black and white, you create distance. Another way to go about it is to show them being part of a family, celebrating a birthday, meeting up with friends, studying for a degree, or doing an internship. Take, for example, Aissata, from Ivory Coast, who seeks to become a French teacher and is now teaching. Or take Victor from Rwanda, who is a nurse working in a hospital. They've found the normal life they've been looking for for years.'
About Ahmet Polat
Documentary and fashion photographer Ahmet Polat (born in Roosendaal, the Netherlands, in 1978) served as the 'Photographer Laureate' past year, and so was the face of Dutch photography in 2015-2016. His work has been published by The New York Times, Rolling Stone, Paris Match, Vogue and Vice, and has been exhibited in museums such as the Rijksmuseum, FOAM, Amsterdam Stedelijk Museum and Brussels Palais des Bozar. He recently had a solo exhibition at PhotoLondon. In 2004 he was the runner-up in the Documentary category at the Zilveren Camera Awards. In 2006 he won the prestigious ICP Infinity Award, and in 2009 he was nominated for the Prix Pictet.
About UAF
The Foundation for Refugee Students (UAF), founded in 1948, is the oldest refugee aid organisation in the Netherlands. It helps refugees complete higher education degrees and find jobs which match their capabilities. Many refugees were students or held jobs before leaving their home country. Generally speaking, their diplomas are not recognised in the Netherlands. Going back to university is the only way in which they can further develop their skills and use their talents, which will allow them to build a new life in the Netherlands and make a useful contribution to society.
More information:
https://www.uaf.nl/home/english http://www.uaf.nl/wat_doet_het_uaf/projecten/foto-expositie_amif-project https://www.youtube.com/watch?v=N7BuOCprvv4&feature=youtu.be http://www.nporadio1.nl/cultuur-media/350-je-klikt-hier-vast-niet-op-nu-eens-geen-schrijnende-beelden-van-vluchtelingen