Thijmen van Nijnanten, Project Manager , posted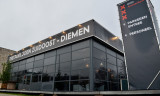 Het corona testpaviljoen aan het Anton de Komplein in Amsterdam-Zuidoost heeft in één maand een energieverbruik vergelijkbaar met het jaarverbruik van 4 à 5 huishoudens. Deze energievraag werd tot het eind van vorige maand voldaan op basis van fossiele brandstoffen. Deze keuze is gemaakt vanwege de benodigde snelheid in realisatie. Na ingebruikname van het testpaviljoen is de focus gezet op het realiseren van een duurzame energievoorziening. Dankzij een lokale samenwerking met het naastgelegen Bijlmer Parktheater draait het testpaviljoen nu volledig op groene energie. Er wordt gebruik gemaakt van de energieaansluiting van het theater welke capaciteit over heeft. Dit neemt de CO2-uitstoot van de aggregaten volledig weg, en creëert een mooie lokale samenwerking tussen de twee partijen.
Zoals veel corona teststraten in Nederland maakt de locatie in Amsterdam Zuidoost gebruik van een open terrein, waar ter plekke tijdelijke voorzieningen zijn opgebouwd. De reden: gemakkelijk bereikbaar voor de bezoekers en flexibel in op en afschaling van de capaciteit. Het nadeel van zo'n locatie is dat er vaak geen vaste energieaansluitingen beschikbaar zijn. Dit wordt traditioneel in de evenementenwereld vanwege de flexibiliteit en termijn van inzet opgelost door gebruik te maken van dieselaggregaten. Zo ook bij het corona testpaviljoen in Amsterdam-Zuidoost. Gezien de urgentie en tijdelijke aard van de locatie was de initiële keuze voor aggregaten een logische. Helaas zijn deze aggregaten behoorlijk vervuilend, vooral wanneer de inzet langer voortduurt.
Voordeel voor alle partijen
Vanaf 24 November 2020 maakt het testpaviljoen daarom gebruik van de energieaansluiting van het naastgelegen theater. Dit is mogelijk omdat vanwege de corona-maatregelen het Bijlmer Parktheater niet op volledige capaciteit draait en daarom het vermogen van de energieaansluiting niet volledig benodigd is. Om het delen van de energie mogelijk te maken is een tijdelijke aansluiting gerealiseerd van het theater naar het testpaviljoen. Deze aansluiting heeft een energiemeter, zodat het theater kan worden gecompenseerd voor het energiegebruik op hun aansluiting. "Door onze energieaansluiting te delen met het testpaviljoen dragen we bij aan de energietransitie omdat het Bijlmer Parktheater een volledig duurzame energieleverancier heeft. Tegelijkertijd helpt het theater bij de oplossing van de coronapandemie. Dat is een prachtige samenwerking!" Aldus Frits Janszen van het Bijlmer Parktheater.
"Kopje suiker van de energietransitie"
NRG Accounting is onder andere in Amsterdam betrokken bij het flexibel inzetten van (semi)publieke energieaansluitingen en zag een kans om zowel het corona testpaviljoen te verduurzamen en een mooie lokale samenwerking te faciliteren. Jordi Leijnse van NRG Accounting deelt: "Het optimaliseren van bestaande energieaansluitingen is een essentieel onderdeel van energietransitie. Ten slotte, waarom zou je zelf investeren in kostbare en vervuilende aggregaten of een vaste energieaansluiting terwijl je de stroom vaak ook bij de buren kunt lenen. "Het kopje suiker van de energietransitie" noem ik dat graag." Dit principe kan op veel meer locaties worden toegepast. Niet alleen bij corona testlocaties, maar bijvoorbeeld ook bij bouwplaatsen of festivals.